Warren Buffett – The Man Who Redefined Equity Investment
Oct 24, 2016 | 18:30 PM IST
Oct 24, 2016 | 18:30 PM IST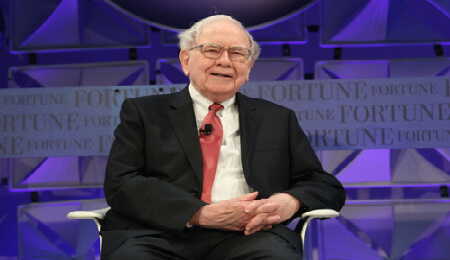 If you are an investor it is safe to assume that you must have heard the name of Warren Buffett in some context of investment. Warren Buffett is one of the most successful investors in the world, owing to his discipline and conviction about his investment theories. Many investors of the world have followed Buffett's investment philosophy with tremendous success.
Investment is a simple concept, but complex terminology, over analysis and undue complications usually make it sound more difficult than what it actually is. This is the exact point where Warren Buffett takes the diversion which usually most of the investors miss. He keeps it extremely simple his 'buy right and hold tight' pattern is what he considers the secret of his extraordinary success.
Let's shed some light on some of the distinctive features of Buffett's illustrious career as an investor.
Ignore politics and macroeconomics when picking stocks
Generally, people try to keep tab of all the activities i.e. political situation, changes in policies, etc. as they believe it will bring them good returns. However, the fact is if you are investing for a long term you needn't worry about current happenings in the world. Warren Buffett has advised investors on several occasions that if you believe in the company you needn't worry about the momentary glitches. He firmly believes that a good stock realises its value sooner or later.
Be greedy when others are fearful...
To be on the top of your game you have to think exactly opposite of general investors are doing as they usually go by the market sentiment'. Mr Buffett says never buy when the market is soaked in the frenzy of profit booking while buy (greedily) when the market is down.
You don't have to grab every opportunity
In the stock market, some stock or other keeps performing on the daily basis. It is not important that one has to stay updated with all the stock and has to be a stakeholder when it succeeds. Thinking on those lines can create a lot of anxiety in the minds of investors. But what Mr Buffett perhaps wants to suggest is that it's not necessary that you should know everything, and if you don't have to know everything you shouldn't fret about an opportunity or two which you might miss.
Think long-term
The entire Warren Buffett's investment philosophy can be summed up in these three words Think Long Term. Ideally, investors should do all the research of the company and buy the stock at the right price at the right time. If you have accomplished that you can sit back, relax and let your stock grow with time.
Watch this space to read more articles on Warren Buffett's quotes.