Financial Planning for Salaried People!
Sep 01, 2014 | 16:39 PM IST
Sep 01, 2014 | 16:39 PM IST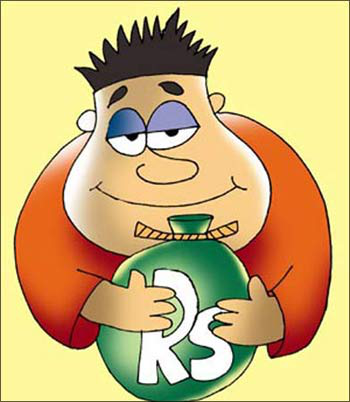 Everybody dreams of being financially independent - be it a businessman, professional or a salaried person. Prudent planning of ones finances is the most important thing for achieving financial security. For salaried folks, it is more critical since they have limited (or fixed) source of income. Rising cost of living (inflation) is another factor one has to combat with. Hence, just saving money is not enough to be financially secure, one needs to be preemptive in managing money.
Salaried people should plan finances prudently
Most salaried people invest just to save taxes and a major part of savings is parked in traditional products, which hardly yield returns higher than inflation. Successful financial planning means to judiciously invest money across time frames and asset classes to achieve ones investment goals. Many of us do not know what we are saving for. Hence, financial planning starts with need/ goal analysis. One should chalk down the investment goals and time or age when he/she will require this money.
One should understand that investment needs depend on factors such as ones risk-taking ability, age, income, spending patterns and other financial responsibilities, if any. For instance, young, single, salaried individuals generally have a higher risk appetite and higher earning period so they can allocate more money to a high risk-high returns asset class such as equities, while those nearing retirement need to be conservative and should allocate a major portion of money to a safe asset class such as fixed income.
Once aware of goals, time horizon and risk-taking ability, one should start investing regularly. To begin with, keep aside some money as a contingency fund (usually three/ six months salary) which comes handy in critical situations. Second, get adequate insurance cover by buying medical and term policies.
Mutual funds can meet most of your investing needs
Once the goals are set, where should you invest money? Due to time and information constraints, choosing the right mix of investment products may become difficult; hence, one can take the help of a financial advisor. One should also look at mutual funds as they are one of the best investment tools for meeting investment needs. The key advantages of investing in mutual funds are diversification, professional management, variety (equity, debt and hybrid) and convenience at a low cost. For creating wealth or meeting long-term goals (such as childrens education/ marriage, savings for retirement etc.), one can invest in equity or hybrid mutual funds, while for wealth preservation one can look at debt oriented funds.
A major advantage of salaried individuals is regular flow of income. This helps one to be disciplined in investing regularly. Mutual funds provide a feature of regular investing systematic investment plans (SIP) which helps in averaging of costs and also makes market timings irrelevant as a fixed sum is invested periodically. Tax planning is also very important for the salaried class. For tax saving one can explore equity linked savings schemes (ELSS) or Rajiv Gandhi Equity Savings Schemes (RGESS) offered by mutual funds.
The best practice would be to map investments with your goals and risk preferences. One should diversify investments by investing in different asset classes to reduce the risk. Further, one should regularly track ones investments which will help in including best performers and excluding underperformers.
Summing up
In order to be financial independent, salaried individuals need to have robust financial planning. Mutual funds are one of the best vehicles for investing across asset classes, which help in wealth creation in the long term.