Big Boys Of The Indian Stock Market – Part 3
May 11, 2017 | 18:52 PM IST
May 11, 2017 | 18:52 PM IST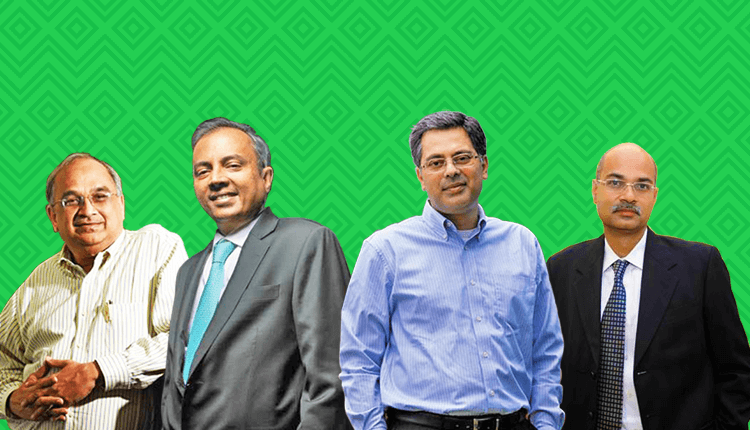 In every field there are leaders and there are followers. Some through their intelligence and vision break new grounds while others just follow the suit. Talking specifically about the leaders, some get hailed and applauded while some get overshadowed by their more famous counterpart. But that doesn't mean their contribution was any less. In our series to bring to fore the unsung masters of the world of equity investment, so far we have met 6 investment stalwarts who through their investment wisdom have created enormous wealth.
In this last chapter, we will meet four new visionary investors who have to their credit some of the finest investment feats.
Anoop Bhaskar
Anoop Bhaskar has been a celebrity fund manager for years. He has headed several high-profile funds like Sundaram and UTI. In his long career spanning over few decades, he has taken many steps which can be called unconventional but in a due course, they have made the critics and detractors eat their words. One such notable trade came in 2005 when aginst all odds he bought shares of Unitech, a real estate company. The general opinion of this stock among investors was that it should be avoided. However, within a year Unitech started its upward trend giving Bhaskar a jaw-dropping 100 times return.
Bhaskar has had a phenomenal run as a fund manager. Naturally, he is a staunch believer in the power of equity. Having created wealth for many of his clients, he believes, people's approach towards money needs to change. He believes that disciplined investment in equity can surpass any other form of investment. He says that people (salaried people) never touch their provident funds till they retire at the age of 58-60. If they can do the same with equity funds i.e. keep investing a modest share of their salaries into equity for years the results would be exceptionally good.
Kenneth Andrade
Kenneth Andrade has long-standing rendezvous with mid-cap stocks. About his love for midcaps, he says, "he would earlier choose the single product companies which had a simple business with plenty of room for growth". Through this strategy, he has spotted many midcap gems which have become multibagger stocks. One of the classic examples of this theory is Page Industries, a hosiery manufacturing company. He saw the potential in the business model of the company and invested in it in 2008. Page Industries has since become a multibagger stock, doubling its value 20 times over. Today it is one of the most high-priced stocks in the market.
Andrade believes that the trick to finding a good midcap stock lies in finding stocks which have a potential to become a household name. A company which has a large consumer base will naturally have a flourishing business which eventually makes a lot of profit for the investors. In a way, it sounds too simple to be true, but that's the way Andrade likes to invest - easy and simple.
Bharat Shah
Bharat Shah is a veteran of equity investment. He heads an investment management business for High Networth Individuals (HNI) and institutions. He also has a simple investment philosophy - invest only in good businesses but invest at a reasonable valuation. This philosophy has mostly worked for him till he learnt another important lesson hard way. When the Information Technology (IT) stocks came to prominence in the 90s he entered a number of major IT stocks like Infosys and Wipro, etc. These stocks gave him good returns till the IT bubble burst. Shah lost a considerable amount of his capital in this downfall.
In investment, mistakes are your best teachers. Shah learned a lesson of his life from his IT stock losses. He later added another point to his investment philosophy - that a good business sometimes becomes too expensive and at that time you need to cash in your chips and pull out of it. But a good investor is one who not just learns from his mistakes but also ensures that they don't repeat. In 2008, Shah bought Kaveri Seeds which he viewed as good business at an attractive price, since then this stock has given him 30 times returns. He maintains that it's investor's responsibility to choose well and be patient and disciplined. Nobody gets rich by following free stock market tips
S Naganath
S Naganath is the president and CIO of one of the most successful equity funds - DSP BlackRock. Naganath is not merely interested in the market but goes a step further to understand the psychic of the investors and how the market moves due to the erratic behaviour of the investors.
Investment is not only about multiplying your capital but it is also about preventing and minimising losses. Naganath displayed a fine example of this when, in 2008, he saw the economic slowdown coming and moved out of banking stocks. He was one of the first few to predict it and his timely exit saved his company from certain loss and also helped it sustain through a challenging phase.
These big boys always prefer to pick the right business from the right industry at an attractive valuation. Now its your turn to pick the right business, and to ease your choice here are the best businesses which can reap you multibagger returns in 2019. To know more about all such multibagger industries and stocks read our scholarly article on Best Multibagger Stocks And Sectors For 2019.