Big Boys Of Indian Stock Market
Apr 14, 2017 | 12:46 PM IST
Apr 14, 2017 | 12:46 PM IST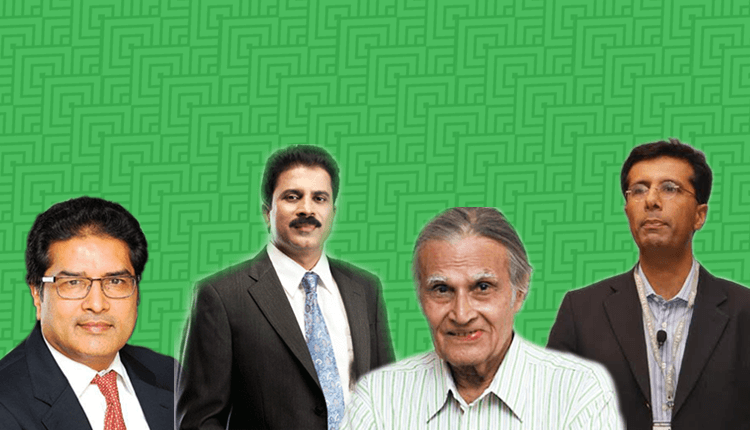 Whenever we talk about celebrity investors, two characters distinctly feature in our discussion - Rakesh Jhunjhunwala and Warren Buffett. For the kind of commitment and diligence these two investors have shown over the decades, they deserve every bit of their celebrityhood. After all, there is a reason why investors swear by Warren Buffett's investment philosophy while "Rakesh Jhunjhunwala stock tips" has become the most searched item on google.
But beyond these two, there are many other investors who have made fortunes through their relentless efforts and exemplary patience. There are various such investors who have made it big in stock investment. Their portfolios may not be as fat as Mr. Jhunjhunwala, but their knowledge and resolve is no less than that of their famous counterparts.
Porinju Veliyath
Porinju Veliyath's is a perfect rag to riches story, filled with dramatic ups and downs. Veliyath was born in a middle-class family in Cochin. Due to his family's modest financial state, he was forced to start working at a young age. Cutting the long story short, due to some turn of events he got acquainted with the stock market, and over the years has become one of the finest stock pickers in the country.
After starting trading independently, his first breakthrough was Geojit Financial Services. He picked up 8% of the company's share. The company's valuation at that time was mere 2.5 crores, and the stock was trading in single digit. No wonder, he was widely criticised for his audacious buy. Many investors looked at it as a bad deal. However, Mr. Veliyath had the last laugh as the stock multiplied its value in few years and brought a load of fortune to Veliyath. Indeed a masterstroke. While explaining his decision to invest in Geojit he said that it was a company which has a good business, good management and it's was up for grabs at discount. He called it the easiest decision to invest in Geojit. This statement shows two things - Veliyath's believe in the fundamentals of good business and his foresight.
In the recent past, Veliyath scored another winner with Shreyas Shipping & Logistics Ltd. He bought the stock of this little known logistic company when it was trading in double digit and the stock went on to become a multibagger, reached 700 in just a year and a half. Porinju Veliyath's portfolio is filled with many multibaggers stocks. In his trading and investing career spanning over few decades, he has tasted multibagger success many times.
Chandrakant Sampat
Chandrakant Sampat was one of oldest the most respected investors in India. Having started his investing career in the early 50s, Sampat literally saw the market evolve from open outcry system to the modern digital trading systems.
Being an old school investor, Sampat religiously followed the principles of value investing all his life. In a way, he is one of the first few investors to have used value investing methods. Staying true to the core of value investing, his portfolio was mostly dominated by consumer good companies like Hindustan Lever (Now Hindustan Unilever) and Indian Shaving Products (Now Gillette India).
His short and no-nonsense investment philosophy states that investment should be done in full adherence to common sense and sense of reality. He believed that investors should not invest in too many companies. Instead, investing on the long-term basis in few companies with rock-solid fundamentals and growth-oriented businesses will do the trick.
Raamdeo Agrawal
Raamdeo Agrawal is a founder and joint MD of Motilal Oswal Financial Services. His sterling investing career spans over 4 decades. A value investor to the core, he believes that long-term investment is the only tool of wealth creation. Back in 1997, he stunned the investor community with his daring trade of buying sizable stocks of Hero Honda, an automobile manufacturing company. The reason this step raised many eyebrows at that time was that the company was valued at mere 1000 crore.
Today, the same company's valuation has reached Rs 50,000 crore which has multiplied Agrawal's stake manifolds. Those who criticised him then call him a visionary today. That's how the market swings.
Raamdeo Agrawal attributes his success in stock investment to his unflinching belief in QGLB, which stands for Quality, Growth, Longevity and Bargain value of a company.
Ashish Dhawan
Ashish Dhawan started his investing career in the US investment sector. On his return to India, he started ChrysCapital, an advisory firm. Dhawan's firm manages funds worth 2.5 billion, and it's amongst the very few private equity firms which have marked 100-times-plus returns. Like all other value investors, Dhawan believes in the power of long-term investment. His one line investment philosophy of investment is - to invest in businesses which he understands. While following his philosophy he strikes a perfect balance of risk aversion and diversification. Dhawan is of belief that focusing on long-term fundamentals is as important as assessing historic data.
In 2007-08 his firm invested in HCL Technologies banking on the fact that company has infrastructure vertical which happens to be its biggest enterprise, a fact that everyone else overlooked. Needless to say, HCL brought Dhawan's firm huge profits. In 2013, ChrysCapital sold off around 2% of its stake in HCL for whopping $500 Million.
These big boys always prefer to pick the right business from the right industry at an attractive valuation. Now its your turn to pick the right business, and to ease your choice here are the best businesses which can reap you multibagger returns in 2019. To know more about all such multibagger industries and stocks read our scholarly article on Best Multibagger Stocks And Sectors For 2019.