Real Estate Investment: The Size Doesn't Match The Performance
Apr 05, 2018 | 16:45 PM IST
Apr 05, 2018 | 16:45 PM IST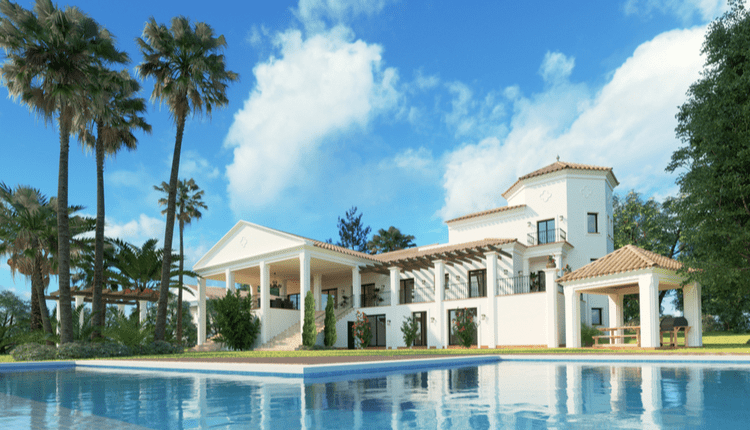 There are many people who keep asking "shall I invest in stocks or in real estate?" Real estate and stock are two different asset classes which have nothing in common. The stock investment is extremely risky and volatile while its upside is that it can give unimaginable returns. On the other hand, real estate is an expensive affair, it's costly and most of the times overvalued, however, like equity, a real estate investment can give good returns provided you have bought the property at a fair price.
Time - A Decisive Factor
One of the important factors that needs to be considered before any investment decision is - time. Time is crucial, in mid 90s bonds were considered hot investment, come 2000s, stocks came back in focus and today (2018) we realise those who bought a house property in early 2000s are sitting pretty with a considerable wealth.
In terms of time, the present time can be considered a good time to buy homes. The beaten and bruised real estate sector is trying to recover post the trauma of demonetisation. Every developer has many unsold inventories which are incurring interest. Furthermore, Real Estate Regulatory Authority (RERA) has added to the scrutiny of the builders. Moreover, GST on real estate has simplified the tax. This clearly makes realty a buyers' paradise.
Investment In Real Estate
Before we take a plunge into exploring the potential of real estate as an investment let's first define investment in the context of real estate. Your real estate purchase can be deemed as an investment only if you are buying a second house property, a shop or a farmhouse or some other form of real estate which you don't intend to use as a primary residence. The reason being, if you are buying a home for the residential purpose, then it can't be an investment, it's your basic need. Imagine, if you buy a house and you move into it. 5 years down the line the rate of the property rises 10%. A return of 10% would be huge but would it be a wise decision to sell the home you are living in? Not really! After selling you would have to buy new accommodation for your family, now as the rates have already risen you wouldn't find a home of the same size at a discount. Thus either you will end up paying the same amount for your new home or, in most cases, more than what you got from the sale of your home.
As we mentioned above investment in real estate is an expensive affair. To make your real estate investment viable, it is important that you have a liability-free home before you seek investment opportunities in real estate. As property investment is done on the long-term horizon, there are various elements like home loan, a promising property in a locality which is not developed but has strong possibilities of development in future.
Let's take a look at all pros and cons of investing in real estate.
Things That Work
A Safe Investment - Real is a traditional form of investment. It sits in the category of 'safe investment' along with gold. Like gold, it is assumed, that the value of a property will not go down beyond a point. In a way, this theory is true. The graph of prices of real estate will always be trending upward. There are phases where the prices may be range-bound for a while but after certain consolidation, slowly but steadily the prices always go up.
Inflation-Proof Asset Class, To A Certain Extent - The biggest privilege of real estate is that it is inflation-proof. Even in the weak economic conditions, the real estate sector doesn't get badly hit. The estimated value of your immovable property doesn't take a steep fall like it is seen in equity and to some extent, in bonds. Though we also have to take into account the fact that when inflation rate goes high, consumer behaviour changes. Many buyers wait for the bad patch to phase out. As a result, the real estate market becomes illiquid.
Property Rent: A Big Incentive - One of the biggest incentives of real estate is that once you buy a house property or a shop you can let it out on rent until the time you want to sell it. Rent is like a dividend on your investment. Rent is a recurring income as it keeps coming every month. That's not all when you let out a property you are also entitled to get deposit amount which is usually a rent of few months. As the deposit is refundable, you can invest it in stocks or fixed deposit and get additional income.
Easy To Understand - The good thing about all the traditional investment mediums is that they are extremely easy to understand. That is one of the reasons why these mediums are so popular. Buying a home is expensive but the idea behind it is simple. The general investment philosophy that people follow is that to buy a home/shop in an underdeveloped locality and then sell it when the locality gets developed and the rates go up. That's all there is to real estate. Unlike equity, investors don't need to check the value of their property every now and then.
Things That Don't Work
Highly Expensive - It goes without saying that real estate investment requires you to have big money. Buying a shop or a house property can start from Rs.10 lakh and there is no upper cap on the price tag. Moreover, if you buy a property in a developed locality, it will be costly, but as the rates of that locality must have already reached the saturation point, your investment wouldn't fetch handsome returns. Compared to equity and mutual fund investment where you can start investing with as low as Rs.500, realty, as an asset class, is in a different level. Even, investment in gold is cheaper.
Recurring Expenses - The cost of a property is high but that's not all, there are many other costs and taxes that tag along after buying. The worst part is that some of these expenses surface over and over again. There are expenses for the maintenance of the property, there are regular property taxes imposed by the local corporation. Then there is electricity, water expenses. These are all recurring expenses. While buying the property you have to foot big expenses like sale deed, brokerage (If applicable), which, in most cases, has to be borne by the buyer and it is considerably high.
Extremely Illiquid - Liquidity means the availability of buyers and sellers. The realty market is extremely illiquid most of the time. Not necessarily due to lack of buying ability and intent or availability of funds but because of the complex and lengthy nature of real estate trades. For example, if you want to sell a property, you will need to publish an ad of the same effect or hire a broker. Then interested parties come to see the property then take ages to reply. Afterwards, there are negotiations about rates. And there is always a possibility of a deal falling through at any stage. The journey of buyers is equally tedious. All and all, it's safe to say that real estate market is highly illiquid.
Can Equity Outperform Real Estate?
Before we pit real estate against other investment mediums to understand whether returns on real estate be any match to equity, let's first take a look at a popular anecdote of Rakesh Jhunjhunwala. It will perfectly set the distinction between equity and real estate.
In 2005, Rakesh Jhunjhunwala, one of the most successful equity investors, was toying with the idea of buying a new home. He came across a promising prospect in the plush neighbourhood of Malabar Hill, Mumbai. The cost of the home was Rs.27 Cr. To raise the funds, like any of us would do, Jhunjhunwala sold some part of his holding in Crisil. Crisil is a rating global rating agency and has been a part of Rakesh Jhunjhunwala's holding for a long time.
So what's a big deal, you may ask? The big deal is that to buy real estate he sold his promising stock. Today, in 2018, let's see where he stands. Let's assume the property he bought has appreciated 200% and is now worth Rs.81 Cr. That sounds good, right? But the stake that he sold in Crisil worth Rs.27 Cr has since become a multibagger and has become approximately worth Rs.700 Cr. Therefore, we can take a rough guess that Jhunjhunwala lost close to Rs.619 Cr.
This anecdote stands as a defining example which perfectly illustrates the power of equity.
If Not Real Estate, Then What Are The Investment Options?
Direct Equity Investment - Taking a cue from the above example of Jhunjhunwala, we can say that stock investment can easily be one of the most dynamic investment medium. There are exceptional growth opportunities that investors can chance upon. In 2017, Nifty & Sensex witnessed exponential growth. Midcaps and small caps were particularly on fire as they turned out to be biggest wealth builders. But stock investment is a long-term game. If 2017 was the good year, 2018, so far, has been on a downward trend.
Like everything else in life, equity comes with its set of flaws. Though equity is extremely liquid and growth-oriented medium, it is largely a medium for professional investors. Stock investment is complex to understand. There are too many things one has to take care of. From research and analysis of stocks to understanding the exact entry and exit points, the growth in stocks is subject to stern terms and conditions.
Take the above example of Jhunjhunwala. We say he missed out on Rs.619 Cr because he sold the stocks of Crisil. However, had it been Hindalco, the shares worth Rs.27 Cr would have been worth Rs.18 Cr in 2015. Then we would have said selling was a wise decision and real estate is better than equity.
But the fact remains that stock investment is a powerful investment medium and if you exercise utmost caution by subscribing to the services of stock research firms, there are high possibilities that you will make handsome profits.
Mutual Fund - If you are not comfortable with direct equity investment, then the next best option is equity mutual funds. Mutual fund is a perfect investment design for those who want to have a stake in equity but want to stay clear of its complexities. Mutual fund may not give as good returns as the direct investment would but it wouldn't be as bad as gold and fixed deposit. Every smart investor should have a stake in equity, whether it's through mutual fund or stocks depends on every individual's risk appetite and financial goals.
Mutual funds come with a lot of options. There are equity funds, debt funds and balanced funds. The key points of these fund types are that equity funds invest all your money in stocks, debt funds invest all your money in government and corporate bonds while balanced funds get the best of both the worlds as they invest in both equity and debt. Moreover, mutual funds are easy to understand. You have to find the best performing mutual funds and then have to stay invested in them for a long time.
The Final Word
Real estate investment, despite its incentives like rent and rate appreciation, is like owning a white elephant. It's expensive and illiquid. It's upside, however, is that it's extremely safe. But that's a little consolation for the high cost that the investors have to foot. In contrast, equity/mutual fund look far more attractive options as they require less capital and have a huge growth potential. Some of the mutual funds like ELSS also offer tax exemption which is a big plus for business and salaried professionals.