rakesh jhunjhunwala

's

Portfolio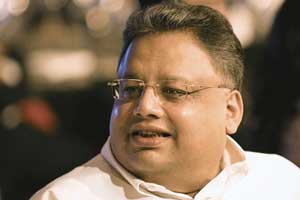 | | |
| --- | --- |
| Gain | 0.9363 |
| Vs.Nifty | 68.79% |
| Success | 78.0000% |
| Strategy | MultiBagger |
About Me: Rakesh Jhunjhunwala's name is a synonym to stock investment. Such is the credibility of Rakesh Jhunjhunwala that his one word, sometimes even a hint, can turn the market upside down. There is a reason why investors swear by his "look before you leap" philosophy. Let's shed some light on the remarkable success story of the big bull of Dalal... Read More>>
About Me: Rakesh Jhunjhunwala's name is a synonym to stock investment. Such is the credibility of Rakesh Jhunjhunwala that his one word, sometimes even a hint, can turn the market upside down. There is a reason why investors swear by his "look before you leap" philosophy. Let's shed some light on the remarkable success story of the big bull of Dalal Street. A journey that started with Rs 5,000 and has reached whopping 13,000 crores! Yes, he's an investment wizard all right. Rakesh Jhunjhunwala's holdings consist of stocks cherry-picked purely on the basis of fundamental analysis and value investing strategies. Rakesh Jhunjhunwala's holdings are the perfect ambassador of his belief in long-term investment and value investing. His portfolio includes low priced and mostly small-cap and mid-cap stocks. His genius lies in finding stocks from the scrap by recognising their long-term investment potential. Over the years, he has identified many gems which have given him multibagger growth. For his knack of picking winners, he is often called Warren Buffett of India. There are uncanny similarities between these two master investors. Both hold their investments for a considerably long period and have built their wealth by banking on undervalued stocks. From Sesa Goa to Lupin Jhunjhunwala has an array of stocks which became the 'favourite' stocks of the market long after Jhunjhunwala spotted them. Being an HNI investor, he doesn't enjoy a lot of privacy in his investing as whatever moves he makes become the headlines of the major financial newspapers, channels and portals. In our endeavour to bring you the up-to-date information of Jhunjhunwala's portfolio, we have captured all his trades from the hybrid sources and have compiled a consolidated portfolio here. We aim to keep updating Rakesh Jhunjhunwala's latest buys and sells as and when they happen and also keep a tab on Rakesh Jhunjhunwala latest picks and tips. << Hide
Rakesh Jhunjhunwala Cuts Holdings In 6 stocks In June Quarter; This Is Where He Invested
Jul 30, 2018 | 12:18 PM IST
As Sensex, Nifty touch new highs, Rakesh Jhunjhunwala portfolio soars; do you own these shares? As Sensex, Nifty touch new highs, Rakesh Jhunjhunwala portfolio soars; do you personal these stocks? Rakesh Jhunjhunwala says can provide it in writing, Modi government coming back in 2019 Rakesh Jhunjhunwala says can provide it in writing, Modi govt coming returned in 2019.
Rakesh Jhunjhunwala saw 70 percent rise in his portfolio in 2017; the ace investor extraordinarily bullish on Titan Rakesh Jhunjhunwala saw 70 percent upward push in his portfolio in 2017; the ace investor extraordinarily bullish on Titan. Rakesh Jhunjhunwala says Indian market is in state of correction; sheds light on midcap stocks Rakesh Jhunjhunwala says Indian market is in state of correction; sheds light on midcap stocks. 10 investment lessons from Rakesh Jhunjhunwala; become an ace investor 10 investment lessons from Rakesh Jhunjhunwala; become an ace investor. Among many fees of ace investor Rakesh Jhunjhunwala regarding trading in stock markets would be, Anticipate trend and benefit from it. Traders should go against human nature. considering Jhunjhunwalas recent funding traits, looks like this quote suits him best. Jhunjhunwala who has been unofficially anointed as the 'king of Dalal street', has always been firm on his word while he says stock will go up and down but grabbing opportunities is what matters maximum. Six months of 2018 have exceeded and noticeably, Jhunjhunwala has removed only a fraction of cash from his top holdings at the same time as adding them to different shares. Jhunjhunwala 58, is said to be one of the most a hit equity investors in India, as he has became his investment of just $100, whilst he started out buying and selling, into a massive $2.9 billion. A total of 29 companies have Jhunjhunwalas love, when it comes to investment, however, this year six companies saw some reduction at the same time as four companies witnessed an increase in holdings. As on June 2018, Jhunjhunwala reduced his holding by using 1.4% in his favorite stock Titan limited. He now holds about 7.06% in this company with general 62,751,220 stocks well worth Rs 5,553.48 crore. His previous holding in Titan became up to 8.46%. Next big reduction Jhunjhunwala made was in Dewan Housing Finance wherein he has sold about 0.43% of his holding in the company. Now, Jhunjhunwala holds 2.76% from previous 3.19. With this gradual discount in Dewan, Jhunjhunwalas protecting now stands at 8,665,264 shares worth Rs 535.86 crore. While a 0.07% and 0.04% turned into removed from Federal bank and Escorts in first half of 2018. In Federal financial institution, Jhunjhunwala now holds approximately 1.72% with 33,459,207 equity stocks worth Rs 302.97 crore. Meanwhile in Escorts, his holding stands till 8.12% with 9,957,632 stocks having price of Rs 919.9 crore. Further, 0.1% each changed into brought down by Jhunjhunwala in Crisil and Edelweiss financial services. Now in Crisil, the man who is referred as Warren Buffett of India, holds 5.52% with 3,965,000 equity stocks really worth Rs 717.27 crore. While in Edelweiss his holding has come right down to 1.08% with 10,000,000 shares valuing at Rs 299.55 crore. Jhunjhunwalas lowest keeping is in Edelweiss many of the 29 stocks. With this, Jhunjhunwala decreased overall about 1.96% of his keeping till June 2018. While the above noted organizations noticed reduction in holdings, Jhunjhunwala took the possibility in growing holdings in 4 of his shares. About 1.78% turned into accelerated in these 4 stocks, beneath which Jhunjhunwala invested maximum in Karur Vysya financial institution. He elevated his keeping via 0.86% in Karur to 4.22%, now having 30,712,288 shares worth Rs three hundred.sixty seven crore. Perticularly, second maximum investment turned into made in debt-weighted down Jaiprakash associates wherein Jhunjhunwala brought any other 0.83% inside the business enterprise. He currently holds 2.06% with 50,000,000 shares really worth Rs 75 crore in Jaiprakash. A marginal increase of 0.06% was visible in NCC, in which Jhunjhunwala now holds 9.50% with 57,0.5,932 fairness stocks worth Rs 534.61 crore. Lastly, Jhunjhunwala noticed opportunity in pharma major Lupin, where he has increased his holding by 0.03% to 1.95% with 8,798,605 shares worth Rs 719.02 crore. Jhunjhunwalas top holdings is still in Titan, followed by way of companies like NCC, Escorts, Dewan Housing, Lupin, Crisil and Delta Corp.
Stocks Jhunjhunwala Bought & Sold In The June Quarter
Jul 18, 2018 | 11:39 AM IST
There are 29 recognised companies in which big Bull Rakesh Jhunjhunwala holds at least one percent stake.
In June quarter, this ace investor stayed put on most of these counters, June quarter shareholding data showed. Jhunjhunwala, often referred to as Warren Buffett of Dalal road, accumulated shares of Orient Cement and LupinNSE -2.28 %, however sat tight on 11 other counters during the quarter that saw cash chase only choose largecaps amid a major selloff in midcaps and smallcaps. Facts showed Jhunjhunwala sold 1 lakh fresh stocks in Lupin during the quarter to take his keeping to 2 per cent from 1.9 per cent at the end of March quarter. At Wednesdays trading charge, Jhunjhunwalas holding in the pharma fundamental was really worth Rs 750 crore. There are many other organizations where the big Bull holds marginal stakes, which regularly do not show up within the quarterly shareholding data, as companies record on shareholders who hold more than 1 percent. One such company is Orient Cement, where the ace investor held 1.2 per cent stake at the end of June quarter, the identical percentage he held at the end of December quarter. Jhunjhunwalas call did not figure in March quarter shareholding data of the company, making a few investors speculate if the ace investor who generally stays put on his portfolio for the long term had shunned the counter completely. Jhunjhunwala did not make any change to his holdings in Aptech, Edelweiss economic services, Firstsource solutions, Geojit financial ServicesNSE 1.59 % and Ion exchange. He also maintained his holdings in man Infra construction, MCX, CrisilNSE 0.46 %, Rallis India and VIP IndustriesNSE 0.63 %. Shareholding styles of many other groups that he holds in his portfolio are yet to be disclosed and they might show a few interesting trends . For example, the market guru had trimmed his stake in Titan, his biggest keeping, for the duration of the quarter through bulk offers. His stake inside the company dropped to 6.54 crore shares, or 7.37 per cent stake, from 7.79 crore share crore shares, or 8.78 per cent stake, as of May 21, 2018. Besides, Jhunjhunwala-owned rare companies picked 1.30 crore stocks in direct-to-home operator Dish TVNSE -0.73 % inside the middle of June, accounting for 0.71 per cent stake, NSE bulk deal statistics showed.
This Rakesh Jhunjhunwala's favorite stock Can beat Bitcoin?
Jul 16, 2018 | 02:19 PM IST
In case you want to make proper money through making an investment in equities, you may to take a look at an experts way of making an investment. After all, their success can be a great gaining knowledge of story for you to profit from on stock exchanges. And who could be better than Dalal street king, Rakesh Jhunjhunwala? each equity lover is familiar with this name, and it wouldnt wrong to say his investment strategies in relation to equities, are commendable. However, investing in equities is a little like of venture in which, one must always remember, the investor is not pulling the strings the stocks are driven by many things, including even sentiment. therefore, you dont want to make a wrong investment and later regret. One aspect an investor should remember is that, investment in equities are best on a long-time period basis if s/he wants to attain maximum benefits. And if the stock is chosen accurately, it can result in a major success tale and whats better than learning from ace investor Rakesh Jhunjhunwala who has been on this field for a very long term and has turned it into a large success. Jhunjhunwala has been known as the Warren Buffett of Indian stock markets!
Jhunjhunwala 58, is said to be one of the most successful equity buyers in India, as he grew to become his funding of simply $100, while he started trading, into a large $2.9 billion. He belongs to a middle class family and started his first buying and selling on BSE in 1985. since then he has selected trading as a full-time career. With such a lengthy experience, for Jhunjhunwala earning money from stock exchanges is outwardly, like a baby's play. however, it should also be known, that he has mastered the word patience in stock market. that may be a virtue that everybody in stock markets needs lots of. Among many investment quotes of Jhunjhunwala, one which stands proud goes like this, Invest in companies which have strong management and competitive advantage. This quote is excellent suitable for investors who have invested in Jhunjhunwalas favorite inventory Titan enterprise, as this one is now seen as money making magnet in its sector and exchanges. In a yrs time, Titan has more than doubled on BSE. Titan has touched a low of Rs 522 per piece on July 27, 2017, and since then has received by 92.72% on BSE by touching a high of Rs 1,006 per piece. this is higher than the 31-scrip and 51-scrip indexes as well, as each Sensex and Nifty 50 have grown among 20% - 22%. On Friday, Titan completed at Rs 836.50 per piece above 3.42% on BSE. however, during the day, the stock has grown by means of nearly 4%. This has grown with the aid of 57.08% from Rs 534.6 in keeping with piece which stood on the same day of preceding yearr. On MCX, Titan is at a premium of 8.1% in comparison to other rivals like Tribhovandas Bhimji Zaveri (TBZ) which stands at 6.5%, PCJ at 3.9%, Thangamayil at 4.4% and Kalyan at 3.3%. not best this, Titans marketplace capitalization is at Rs 74,263.31 crore as on July 13, 2018, that's like 2.71 times higher than the entire gems & jewelry stocks on BSE. a total 20 jewelry stocks apart from Titan holds a cumulative market cap of Rs 27,344.05 crore. Titans peers pc Jewellers has a market cap of Rs 4,731.64 crore, while Thangamayil at Rs 577.94 crore and TBZ at Rs 567.54 crore. apart from Titan, only Rajesh Exports has a market cap of Rs 16,806.20 crore. Consistent with HDFC Securities, Titans valuation is seen upto $eleven,711 million (that's approx Rs 8,02,164.eighty five crore) in advance. now not simplest this, Titan is the only home business enterprise with a view to tackle worldwide gamers like Tiffany, LUK Fook, Signet Jewellers and Chow Tai Fook Jeweller. Do you want to know a fun truth? Titan is a better success story than even Bitcoin cryptocurrency. each coming day Bitcoin is losing its golden touch inside the cryptocurrency marketplace. due to Bitcoin, traders have misplaced religion in other digital cash like Ethereum, Litecoin, Bitcoin cash and Ripple. Bitcoin currently trades at $6,298.60 with a marketplace cap of $108.02 billion. apparently, Bitcoin is just few billions away from falling under $100 billion market cap. The downfall of Bitcoin was as large and quick as its upward push - it grew 141,825.71% or 1419.26 times by December 17, 2017 - to clock $19,869.60-mark not so long ago. If we compare to current market price of $6,298.60 with $14 in the starting of 2013, this coin has now grown by 44,890% until now. But Titan has proven some promising increase. Titan has a lowest market price of Rs 1.37 within the month of October 2001, since then the company has grown by a behemoth 73330.65% or 734.30 times currently in a span of 18 years. Titan will grow furthermore not like Bitcoin whose trajectory no one can predict effectively, but considering that government after government is banning it, the direction is downward. Also one excellent comparison is marketplace cap, Bitcoin now is close to $108 billion, while Titan is seen to bag market valuation of over $126 billion if we have a look at HDFC's prediction. Earlier, ICICI Securities on Titan states, "We believe Titans growth story will remain multi-pronged and drawn over a longer time frame. Consequently, we shift to a DCF based valuation to arrive at a target price of Rs 1090 with a BUY recommendation on the stock. On a DCF basis, we assume revenue CAGR of 20% over FY17-23E and 11% over FY24E-30E with 10.8% WACC and 4% terminal growth rate." Rohit Harlikar and Jay Gandhi analysts at HDFC Securities said, "Indias jewellery story is mostly about the SUPERPACK (17 organized jewellery chains that will grab ~42% share in the next five years). The SUPERPACK has significant diversity in current operations as well as growth strategies." The duo Adds, "Titan looks like the big winner right now, but DEFENCE will be the operating word as SUPERPACK closes in. Business gains are priced in." Titan remains a distant leader in terms of national presence, able contenders are visible across all zones. As in line with HDFC Securities, given the modern design/capital arbitrage, we agree with Titan will have a head-start on the customer acquisition race over FY18- 21E. Co is confident on achieving its aspired 25% jewelry sales growth in FY19E. however, peer gaps will reduce post FY21 (segment 2 of our medium time period view) and Titan will find itself protecting turf against very sturdy and able challengers throughout India. Jhunjhunwal's largest preserving is seen at Titan which is well worth extra than $900 million. He currently holds 8.46% in the organisation. considering this you might need to element approximately Titan as an funding option very critically.
GST - The Right Direction, Says Rakesh Jhunjhunwala
Jul 02, 2018 | 04:24 PM IST
Rakesh Jhunjhunwala is understood for his good exchange movements. However, with goods and services tax (GST) celebrating its 1st day yesterday, the Ace investor reacted by saying that he has been in favour of the new tax regime since its launch on july 1, 2017. As India's biggest tax reform in a very decade completes one-year of the implementation, Jhunjhunwala in a recent interview called GST a game-changer, adding that the country is going within the right direction.
"GST, I think is a game changer. We have to understand that all correction and all change in this country is a process. Its a democracy. It takes time. I think we are going in the right direction," said Rakesh Jhunjhunwala in an interview to CNBC-TV 18. However, the stock market guru added a proviso and said, that, "I would be happy if the speed is enhanced." Meanwhile, the government celebrated july 1, 2018, as 'GST Day' to mark the first day of the new indirect tax regime. GST was extended in the intervening night of june 30 and july 1, last year, in a ceremony held within the Central Hall of Parliament with then President Pranab Mukherjee and Prime Minister Narendra Modi doing the honours. Following its implementation last year, Jhunjhunwala had said that the effect of GST would be so much deeper than the tax itself, attributable to three reasons. "First it'll cause conversion. Anybody who has a business with a turnover of over Rs 20 lakh can have to be compelled to digitalise their business which goes to bring in tremendous efficiency in the approach we work. Second, it's going to cause massive logistical gains because corporations square measure needed to take care of warehouses in each state as they did not need to pay the central sales tax, and lorries were stopped at lots of places. Thirdly, the rates aren't going to lead to any increase in taxation. Overall, there's going to be some reduction in taxes and not some increase," said Jhunjhunwala, the owner of RARE Enterprises in an interview with ET now. Although the long-term impact of GST can prove to be useful, specialists believe the extent of short-term pain might are avoided. "The government touted the GST as good and easy Tax. However, in its present avatar, GST is only an honest however not a simple Tax," said Sachin Vasudeva, Senior Partner at SCV & Co. LLP. "If the government actually wants to make GST into a Good and Simple Tax then it should look at making the law simpler in terms of the compliance burden and start trusting the tax payers, Vasudev added.
Rakesh Jhunjhunwala Dumps 2.67% Stake In Titan
Jun 29, 2018 | 11:33 AM IST
Ace investor Rakesh Jhunjhunwala has offloaded 2.67 percent stake in Titan company, a Tata group company. Between May 22 and June 28, Jhunjhunwala and 8 different connected entities offloaded around 12.5 million shares for around Rs 10.8 billion. Over 1/2 of those shares were sold on Thursday, according to a disclosure made to BSE. shares of Titan on Thursday closed at Rs 838, down 3.6 percent. Shares of Titan have come off by using round 10 percent amid the stake sale by Jhunjhunwala.
Titan, which is into Jewellery and watch retailing, is the top holding for Jhunjhunwala, who holds shares worth $2 billion in over a dozen companies. The offloading of stake in Titan comes at a time when shares, particularly in the small and Midcap space, are undergoing outstanding selling stress. Following the share sale, the shareholding of Jhunjhunwala, along with 8 other entities, dropped to 65.45 million (7.37 percent stake) from 77.95 million (8.78 percent) on may 21. Jhunjhunwala has been a stakeholder in Titan for more than a decade. On April 12, 2007, Jhunjhunwala held a 10 percent stake in the company. Back then, the share price of Titan (on an adjusted basis) was around Rs 40. shares of Titan have given annualized returns of 30 percent since April 2007. In comparison, the benchmark Sensex has given annualized returns of only 9 percent.
Rakesh Jhunjhunwala Failed To Spot This Investment Opportunity? Big Mistake Turns Costly
Jun 28, 2018 | 01:04 PM IST
Ace traders might not usually judge a company's worth effectively all of the time or possibly there have been different extraneous reasons that distracted or turned them off. This stands real for India's legendary investor Rakesh Jhunjhunwala too! The market guru can also well have missed an opportunity while it was offered on a plate to him, and now he's inside the race to gain it returned.
It seems like Rakesh Jhunjhunwala, who's a few of the front runners within the race to buy Indias biggest standalone health insurer star health & Allied insurance company, was as soon as offered the company at one-third of the price the big Bull is looking at paying now along with other private equity buyers. A report in economic times said, quoting an unnamed source, that Jhunjhunwala was presented star insurance at less than Rs 2000 crore some years in the past. earlier in June ET had reported that Rakesh Jhunjhunwala along with WestBridge Capital and Madison is likely to buy 93.99 per cent in star health insurance at a whopping valuation of Rs 6,500 crore! The agreement will be signed in the next few days, reported ET, quoting a source. They will buy out 93.99 per cent, valuing the company at Rs 6,500 crore. The remaining 6.01 per cent will be with two individual shareholders of ETA Trading, the source added. WestBridge will likely own 51 per cent, Jhunjhunwala 33 per cent and Madison 16 per cent. ICICI Lombard has reportedly pulled out of the race to buy star health because of differences over valuation. In a latest interview with CNBC TV18, Jhunjhunwala stated that he's awaiting a closure at the insurance deal by the give up of this month or first week of July. On asking if he is looking at more such offers in insurance space, Rakesh Jhunjhunwala standard that there are matters on the horizon however much smaller. "I dont have that kind of money to put in so many other companies and I am looking at a lot of opportunities but they are much smaller," he said.
Rakesh Jhunjhunwala Stock Available For Below Rs 100! May Gain 50%
Jun 27, 2018 | 11:29 AM IST
The ace investor Rakesh Jhunjhunwala is one of the most popular persons on the subject of making an investment and getting the stock markets direction. Rakesh Jhunjhunwala owns a bunch of equity stocks of several companies in commanding extra than 1% of the whole paid-up capital. Rakesh Jhunjhunwala has as soon as stated that Give your investments time to mature. Be Patient for the World to discover your gems.
There is a stock in which Rakesh Jhunjhunwala owns nearly 2% of the entire shareholding and extra ordinarily, the stock is available for beneath Rs 100. Stocks of Kochi-based The Federal financial institution Ltd have fallen approximately 24% from January 2018 so far. According to the brand new shareholding facts available with the stock change, Rakesh Jhunjhunwala owns 3.47 crore equity stocks of The Federal bank, equal to 1.79% of the entire paid-up capital, on the cease of 31 March 2018. Shares of Federal bank are buying and selling around a level of Rs 83 (present day market fee: Rs 82.75 per equity share). The research and brokerage company Motilal Oswal Securities has given a buy rating to the stock of Federal financial institution with a ability upside of as much as 53% to a target price of Rs 127. So far in the current year 2018, Indias equity markets have advanced relatively well as the benchmark Sensex index has back approximately 10% with blue-chip shares of TCS, Kotak Mahindra bank, M&M, Infosys, HUL, IndusInd bank, HDFC bank and HDFC gaining more than 10%. interestingly, the benchmark index returns of huge marketplace players inclusive of Dow Jones industrial average of the united states, Shanghai Composite Index of China and Nikkei 225 of Japan are negative.
Rakesh Jhunjhunwala Says 2018 Might Be The Year Of Consolidation
Jun 21, 2018 | 06:04 PM IST
In step with Rakesh Jhunjhunwala, there's no credible leader inside the opposition party to take on PM Modi. I am sure that the next government will be a BJP government in spite of what people beings feel, he stated.
Indian equity market, which bottomed out in August 2013, noticed a stellar run in 2017 and in 2018 innitialy, boosting Nifty50 better to the touch 11,000-mark in 2018, however now it perhaps be in for a few consolidation, Rakesh Jhunjhunwala, associate, rare organizations stated in an different interview with CNBC-TV18. We witnessed massive up move in markets and if the market remains within the variety of 10,000-11,000 for the next 1 year,I would be very happy, he added. In his discussion with CNBC-TV18, he said that traders must now not get disheartened with the current correction. the bull market cannot end at the current level of profits-to-GDP. The flow of local money into equity markets has simply started and the flow is unlikely to stop anytime soon. We might have lost about 7-8 percent from the highs but there is tremendous correction in the midcaps. I dont think political uncertainty will take down the market beyond a point, explains the big bull. Commenting on political situation and its impact on markets, the big bull said that Modi is the most towering leader of this country and it would be too early to predict the outcome of the 2019 general elections. Also, India or market is not dependent on any political party. The anecdotal proof propose that market generally unearths a few motive to upward push again. In 2004, while BJP lossed elections, marketplace went to 4,600 after which eventually it went to 25,000. I'm now not bothered too much approximately politics, explains Jhunjhunwala.
top Sectors & stocks in awareness:
Tata steel
He's extreamly bullish on Tata steel as he sees major upward rise in EBITDA (profits earlier than interest, tax, depreciation, and amortisation) if steel costs stay at modern-day levels.
Pharma
"I am pretty sure that worst is behind for pharma sector as generic competition in the US is leveling off," Jhunjhunwala stated. He's positive on the home branded pharma business. "Indian pharma enterprise is coming into unknown, however thrilling area." Healthcare majors sun Pharma & Lupin entered into speciality generics, the following next leg of growth.
Banking
He feels there's an exceptional boom opportunity within the banking section. "Once provisioning normalises for banks, earnings & multiples will expand. Banks with legacy problems will show strong growth," he said. He is extraordinarily bullish on banks. "ICICI Bank carries characteristics of HDFC Bank in terms of CASA. For ICICI Bank, FY19 will see repair & FY20 will be a year of clean growth." Return on assets and return on equity of private banks with legacy troubles will improve in FY19 & FY20, he feels. Jhunjhunwala stated NCLT (National Company Law Tribunal) & IBC (Insolvency & Bankruptcy Code) will inculcate a sense of credit discipline. "people are underestimating lengthy-time period benefits of IBC & NCLT."
Healthcare Insurance
Jhunjhunwala is bullish on healthcare insurance in India. He sees numerous growth possibility in medical health insurance. "Healthcare coverage in India can grow 20 percent for the subsequent 10-15 years."
Real Estate
He sees great next 2-3 years for the real estate sector. "I don't think real estate prices will increase, but volumes will grow. We are underestimating the positive impact of affordable housing," he said. Jhunjhunwala has some investments in the real estate sector.
Intake space
All the potential growth in consumption stocks is priced in, he said, adding over next 5 years, FMCG returns might be lower than FMCG earnings growth.
This Rakesh Jhunjhunwala Stock Doubled Money In 6 Months By Outperforming TCS & Infosys.
Jun 12, 2018 | 03:51 PM IST
We bring your interest to a mid-cap IT stock owned by using the legendary investor Rakesh Jhunjhunwala. Fairly, this mid-cap IT proportion has also outperformed heavy weight industry friends TCS and Infosys within the ultimate six months, as far as the returns are concerned.
Indias stock markets have gone through the roller coaster trip in the last six months with many stocks going up with the breeze inclusive of Merck, Indiabulls Ventures, HEG, Jubilant Foodworks. all the aforementioned stocks have again 60-120% in the corresponding length while the headline indices Sensex and Nifty have grown 5 to 6 percent . While, then again, the benchmark Nifty IT index has advanced approximately 23% using at the again of appreciation in blue-chip stocks of Infosys and TCS. We bring your interest to a mid-cap IT inventory owned by means of the legendary investor Rakesh Jhunjhunwala. distinctly, this mid-cap IT proportion has also outperformed heavyweight industry peers TCS and Infosys inside the closing six months, as a ways because the returns are concerned. Share prices of the Mumbai-situated IT provider provider Firstsource solutions have risen more than a 100% inside the last six months and apparently, this stock has vastly outperformed as compared to the returns of TCS and Infosys stocks. The stock of Firstsource solutions has surged 106% to Rs seventy nine.25 from a stock price of Rs 39.four on NSE. within the similar time, inventory returns of TCS and Infosys stood at 31% and 25%, respectively. According latest statistics available with Bombay stock exchange (BSE) as at 31 March 2018, ace investor Rakesh Jhunjhunwala owns 2 crore equity stocks or 2.91% of Firstsource answers. Notably, Indias second-biggest private area lender ICICI bank additionally holds about 4.78% or 3.28 crore fairness shares of Firstsource answers. Firstsource answers stocks are falls underneath A group of BSE and are a thing of S&P BSE 500 and NSE 500 indices. Firstsource solutions commands a market capitalisation of Rs 5,459 crore. Firstsource solutions is a business process management services firm which gives up facility end to end customer lifecycle management across different industry verticals such as telecom and media, BFSI, healthcare.
Rakesh Jhunjhunwala Exited Company In Nick Of Time; Stock In BSE, NSE Scanner Now
Jun 12, 2018 | 12:59 PM IST
Rakesh Jhunjhunwala reduced his stake in the firm from 13.46 per cent in the June quarter to 8.42 per cent in the September quarter.
Rakesh Jhunjhunwala is indeed a sensible investor. however, worryingly, one stock that graced his portfolio for so long has simply been included in BSE and NSE's additional surveillance measures (ASM) listing, suggesting all isn't going well with the business enterprise. however, the ace investor that he's, Jhunjhunwala reduce his holdings in the stock below 1 in keeping with percent or nil with the aid of the December quarter of financial year 2017-18. The big Bull reduced his stake within the company from 13.46 percent within the June sector to 8.42 consistent with cent inside the September quarter. He similarly reduced his positions within the stock with it finding no mention in his portfolio in the December and March quarter. This indicates he both bought all stakes within the organization or reduced it below 1 percent. substantially, exchanges call most effective the ones shareholers in the shareholding report who very own over 1 percent stake inside the firm. The stock is a hotel company. Any guesses? Yes, it is none other than Viceroy Hotels. The stock of the company dipped a whopping 53 per cent so far in 2018. It has shed over 86 per cent in the last ten years, while Sensex grew 135 per cent. The inventory was frozen in its higher circuit of 5 in line with cent in Monday's change. It quoted at Rs 80.41 on the BSE. Founded in 1965, through Sri Prabhakar Reddy and Associates. Viceroy hotels took up 150 Room 3 star person hotel undertaking and started its commercial operations in 1993. At some point of 2003, Viceroy hotels restrained entered into an agreement with Marriott international Inc, USA. For franchise, advertising and operations underneath the emblem of "Marriott" for a duration of 20 years. Viceroy inns presently owns 297 Room hotel below the brand of "Marriott" 120 Room hotel under the logo of "Courtyard Marriott" in Hyderabad and 56 Room lodge in Himayatnagar, Hyderabad. Viceroy hotels limited is likewise a conserving agency of Cafe D Lake private constrained which owns great Dine eating places within the call and fashion of "Minerva Coffee Shop" and Fine Dine Bars in the name and Style of "Bluefox". The company presently owns excellent Dine restaurants and Bars in Hyderabad and Vijayawada. Menahwile, general price of Rakesh Jhunjhun portfolio got here in around Rs 19,960 crore as of June 2, in step with a file on cash Excel. Jhunjhunwala continues his most important holdings in Titan, Lupin and CRISIL, respectively.