Brokerage Is Injurious To Your Wealth
Sep 28, 2018 | 18:53 PM IST
Sep 28, 2018 | 18:53 PM IST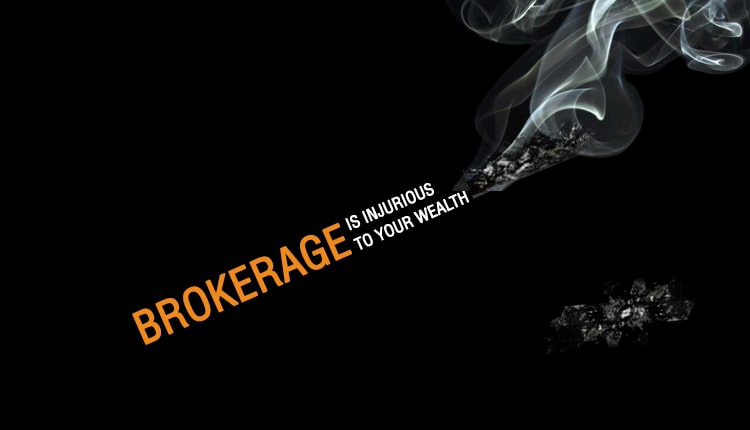 Are you a professional who is planning on hiring a stock advisory service or portfolio management service(PMS)? Stop.. read this article to make the smartest and safest decision for your money. Even though a Portfolio Management Service is the one-stop solution to all your investment worries there are certain terms and conditions hidden behind asterisks. We tell you what these could be and how they could harm your wealth, so read on.
The charges and conditions of a PMS are one of the biggest hurdles. Charges and fees like management fee, performance fee, etc are informed and charged upfront at the time of subscribing. Paying these off you would relax and wait to count your profit post the subscription expiry, but you might be in for a rude shock. One of the words that would generally be missing in action from all marketing material of a PMS is - Brokerage. By the end of your service, the brokerage accumulated on your portfolio might offset your profits.
1. Brokerage Drains Your Investment Returns
Brokerage can turn out to be the devil for your investment if you ignore it. This is the hidden cost of PMS that you incur and will definitely hamper your pocket. Each time a share is bought or sold a percentage of the amount is charged to you as brokerage. That is, the churn that you have in your portfolio directly related to the brokerage cost you incur, higher the churn/turnover higher the brokerage you incur. High brokerage amounts will leave deep impacts on your investment returns.
2. Broker Service Vs. Research Service
The key question here is - are you availing a broker service or a research service? Because constant buying and selling is not something a research service would recommend. In fact a good research analyst would keep you invested and focused on long-term wealth creation.
Whereas, a broker would try to churn your portfolio holdings as many times as possible, simply because the broker earns from your churnings, no matter whether your portfolio makes a profit or incurs a loss. There are many instances wherein a PMS service which has its own brokerage service has averaged out profits in a bid to increase their own earnings, which has resulted in minimal profits. According to industry statistics, numerous cases have been registered where the brokerage amount has overshadowed the total profit earned.
Generally, the brokerage fees is 0.25% of the delivery or single transaction, and most advisors would make brokerage fees sound negligible since its below a decimal point. The total accumulated brokerage when calculated at the end of your service can easily run up into lakhs. For eg, you start with a portfolio of Rs.25 lacs, 0.25% of it is Rs.6,250. This means that every time something is sold to the tune of Rs.25 lacs you would incur Rs.6,250 regardless of a profit or loss. Ten churns of your portfolio and youre already charged a whopping Rs.62,500. An advisor, especially a motivated advisor can easily run your portfolio through Futures and Options transactions which attracts a flat brokerage per lot thereby can increase turnover with reaping high brokerage, within a stipulated period of time.
3. How Brokers Earns From Your Investments
In the case of PMS, the broker may churn your portfolio holdings many times to give you higher returns. But have you noticed that even though you earn decent returns and save money in terms of fees, you incur a huge brokerage amount on your account? Brokerage is not a part of returns directly but the returns you earned are at the cost of that brokerage and management fees. Generally, PMS charges brokerage varying from 0.2-0.5%. Further, they also charge you with the profit sharing if the portfolio returns are beyond the benchmark returns so ultimately it will be going out from your pocket. Thus if you analyze the net returns from the service, you would be amazed by the minimization of your returns.
Let's demonstrate and understand how the brokerage works and eats up your returns.
Let's assume that you have invested Rs.1 lakh with your broker and started investing. Consider your broker is offering you brokerage of 0.25% and he tweaks your portfolio four times and gives you the best possible returns. You will have incurred a brokerage of 2% due to this. Let us assume that by the end of your services tenure, the value of your investment stands at Rs.1.40 lakh, a profit of 40%. However, the brokerage you have incurred would be Rs.8,000 plus the fees of the PMS (lets say Rs.20,000) would result with you getting only Rs.1,12,000. Is 12% worth the investment?
Almost every new investor makes the mistake of calculating the profit on investment simply as the difference between Rs.1,40,000 and Rs.1,00,000 that is Rs.40,000 or 40%. They forget to calculate brokerage and fees into consideration. While this is how brokerage eats into returns, there are other costs like security transactions tax, transaction charges and service tax etc which further diminishes the value of the investment.
4. Dont Churn And Burn Returns
Many of you may have observed that once you subscribe to the service, the stockbroker will start bombarding you with stock recommendations and even starts urging you to buy and sell as per the recommendation. The frequency of this rises when markets are witnessing a bull run. In the case of a bull run, you even get the returns so won't understand the motive behind this.
But as we discussed earlier, the higher churn directly translates into higher brokerage. So before making any decision, remember that the broker makes money every time you transact. So he wants you to buy and sell for multiple time at a furious pace. Investing arena wont expect you to do so, with the constant buying and selling even your cost will go up as we have seen in the above example and you may end up with the lower profits.
But as we discussed earlier, the higher churn directly translates into higher brokerage. So before making any decision, remember that the broker makes money every time you transact. So he wants you to buy and sell for multiple time at a furious pace. Investing arena wont expect you to do so, with the constant buying and selling even your cost will go up as we have seen in the above example and you may end up with the lower profits.
The phenomena is also known as portfolio turnover in mutual funds and even it has an inverse relation with the returns. So, higher churn will definitely lead to the lower returns and you should understand that your broker is not at all concerned with this. So if your broker wants you to churn your portfolio then he is cheating with your money.
5. Be A Smart Investor
We never realize the things happening in front of us but be aware of all such traps because these minor things actually impact our returns. Being a prudent investor you should understand the importance of the brokerage. High brokerage is highly injurious to your portfolio just like smoking is injurious to your health. It is one of the key drawbacks of the portfolio management service and it tapers down your investment returns.
But then how to deal with it, you are not able to handle or make time for the investment and even you dont want to get cheated. Do you want to get a golden middle of this, a simple way to benefit with higher returns is P360. Niveza offers you a flagship product - p360 (Personalised Research Service) which is made for everyone, from beginner to HNI's. In this service, all the investors need to do is bring Rs.2,00,000 capital, choose a plan that suits their requirements and then sit back and see their portfolio value soar. The added advantage of this service is ZERO BROKERAGE.
6. Know The Service Offering Zero Brokerage- P360
We at Niveza are more promised to provide you with the best possible returns through our best product P360 which incurs you no brokerage, earns you money on the go with the dedicated equity dealer exclusively for you, below are the salient features of P360 to make your investing life easy.
A. Performance Guarantee With Zero Brokerage

If you don't see profits in the period of subscription we renew your subscription for free. That's not all, for all your investments in p360 you pay zero brokerage. You heard it right - ZERO BROKERAGE!
B. Dedicated Equity Dealer
Missing the buying opportunity and subsequently missing out on big profits is a thing of past as in p360 you get the services of dedicated equity dealer to enter and exit all the position that ensures you get what is promised to you - profit.
C. Tailor-Made professional research For Individuals
The biggest enemy of retail investors is their emotions. Yes, even the smartest of the investors succumb to their emotions. What it means is when a stock makes a profit they think the market might drop and this level may never come again and in the fit of emotions they end up selling a good stock. With p360 you can dare to let your stocks run the full course as your decisions will be backed by hard, in-depth research.
D. Unlimited Access to Research Desk
Nothing is more reassuring than talking to the person who is at the helm your portfolio. With p360, you get unlimited access to our research desk who will help you with all your investment-related queries and be available to explain the rationale behind the investments.
E. Simple Flat Fee Structure
The complex profit sharing equations can become quite difficult to understand for you. So we offer you a simple flat fee structure which allows you to enjoy profits without worrying about the mess of numbers to separate actual profit from gross profit.
You can get in touch at 09637171436 to know more.