rakesh jhunjhunwala

's

Portfolio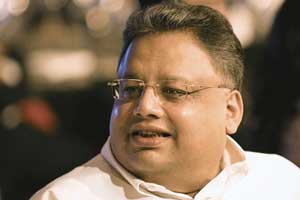 | | |
| --- | --- |
| Gain | 93.63% |
| Vs.Nifty | 68.79% |
| Success | 78% |
| Strategy | MultiBagger |
About Me: Rakesh Jhunjhunwala's name is a synonym to stock investment. Such is the credibility of Rakesh Jhunjhunwala that his one word, sometimes even a hint, can turn the market upside down. There is a reason why investors swear by his "look before you leap" philosophy. Let's shed some light on the remarkable success story of the big bull of Dalal... Read More>>
About Me: Rakesh Jhunjhunwala's name is a synonym to stock investment. Such is the credibility of Rakesh Jhunjhunwala that his one word, sometimes even a hint, can turn the market upside down. There is a reason why investors swear by his "look before you leap" philosophy. Let's shed some light on the remarkable success story of the big bull of Dalal Street. A journey that started with Rs 5,000 and has reached whopping 13,000 crores! Yes, he's an investment wizard all right. Rakesh Jhunjhunwala's holdings consist of stocks cherry-picked purely on the basis of fundamental analysis and value investing strategies. Rakesh Jhunjhunwala's holdings are the perfect ambassador of his belief in long-term investment and value investing. His portfolio includes low priced and mostly small-cap and mid-cap stocks. His genius lies in finding stocks from the scrap by recognising their long-term investment potential. Over the years, he has identified many gems which have given him multibagger growth. For his knack of picking winners, he is often called Warren Buffett of India. There are uncanny similarities between these two master investors. Both hold their investments for a considerably long period and have built their wealth by banking on undervalued stocks. From Sesa Goa to Lupin Jhunjhunwala has an array of stocks which became the 'favourite' stocks of the market long after Jhunjhunwala spotted them. Being an HNI investor, he doesn't enjoy a lot of privacy in his investing as whatever moves he makes become the headlines of the major financial newspapers, channels and portals. In our endeavour to bring you the up-to-date information of Jhunjhunwala's portfolio, we have captured all his trades from the hybrid sources and have compiled a consolidated portfolio here. We aim to keep updating Rakesh Jhunjhunwala's latest buys and sells as and when they happen and also keep a tab on Rakesh Jhunjhunwala latest picks and tips. << Hide
Stock Which Reaped 38% Return For Rakesh Jhunjhunwala Since Last Holi
Mar 26, 2019 | 12:40 PM IST
The festival of colours is here, as citizens across india celebrate Holi on Thursday with family and friends. Holi is also popularly referred as festival of spring and a decent harvest season. Well, the harvest has also been smart in Dalal Street king Rakesh Jhunjhunwalas portfolio on stock exchanges. In fact, all Jhunjhunwala would like is one stock to continue its upward trend, and remaining losses still is pared. By this, we tend to are talking regarding the massive bulls most favorite stock - Titan. This jeweler is among the foremost preferred shares in its sector, due to its key dominance and demand. Nearly 1/2 Jhunjhunwalas wealth comes from Titans gains. what's interesting is to notice that Titan did not disappoint its highest investor Jhunjhunwala, as from last Holi till current one, the stock has jumped by nearly 38th.
Last year, Holi took place between March 01 and March 02. Back then, Titan was trading at nearly Rs 810-level. And on March 20, 2019, Titan made its most blockbuster performance, by touching an all-time high of Rs 1,115.50 per piece on Sensex. With this, just one day before Holi, Titan gave Jhunjhunwala a present by rising nearly 38th in 1-years time. Notably, Titans blockbuster performance is already witnessed in Jhunjhunwalas wealth. so far in 2019, Jhunjhunwalas wealth has up by over Rs 900 crore in Titan. according to TrendLyne.com data, Jhunjhunwalas holding in Titan is currently valued at Rs 6,934.9 crore as on March 20, 2019. This was not the case by december 2018 finish, as the ace investors holding was below Rs 6,000 crore in Titan. Interestingly, Titan showed a stellar performance not solely in share worth however conjointly in Jhunjhunwalas portfolio. this can be despite, the massive bull reducing his holding by 0.04% in Titan during Q3FY19. Now, the Warren Buffett of india holds regarding 7.08% stake in Titan with 62,901,220 equity shares. Going forward, what you want to know is that, this can be simply warming up from Titans finish. experts have any given get rating on Titan and are quite optimistic on the companys module. Broking firm Sharekhan in its analysis note says, Titan is one of the top retailers with a strong presence in discretionary categories such as jewellery, watches and eyewear. A huge retail footprint - two million sq. ft. of retail space across ~1,600 stores - and a portfolio of strong brands make it a leading brand in most of the segments. Further, it explained that, Titans jewellery business is expected to grow in double digits on account of sustained launch of latest assortment, enlargement in domestic footprint (retail house enlarged by one.7x), shift of customers to sure brands when demonetization and implementation of GST and robust growth in diamond jewelry. the corporate expects jewelry revenue to grow by 2.5x by FY2022. As the discretionary environment improves and demand for branded jewellery rises, Sharekhan says, Titan is well poised to achieve double-digit revenue and earnings CAGR of 15% and 20%, respectively, over FY2018-FY2021. Finally Sharekhan added, With a lean balance sheet (debt:equity at 0.1x) and a strong financial background, Titan is one of the best retail plays among peers. Being a Tata Group company, it has strong parent support. With improving discretionary environment and rising demand for branded jewellery, Titan is well poised to achieve double-digit revenue and earnings CAGR of 15% and 20%, respectively, over FY2018-FY2021. We have a Buy recommendation on the stock. Sharekhan has given a target price of Rs 1,200 on Titan. On wednesday, when touching Associate in Nursing all-time high of Rs 1,115.50, the share price of the company corrected and ended at Rs 1,102.65 down by just 0.59% on BSE. At Rs 1,102.65, Titan is seen to rise by nearly 9/11 if we take into thought the target worth. Hence, one will still still get Titan.
Rakesh Jhunjhunwala Made 7-8% With These Two Stocks? Do You Own One
Mar 12, 2019 | 03:47 PM IST
Although, majority of stocks the ace investor Rakesh Jhunjhunwala holds were witnessing buying sentiment, however, it had been Orient Cement and edelweiss financial Services that gave major gains.
As benchmark index Sensex once again clocked over 37,000-mark in early hours of Mondays trading session, there have been 2 stocks that were high performers in Dalal Street king Rakesh Jhunjhunwalas portfolio. Although, majority of stocks the ace capitalist holds were witnessing buying sentiment, it had been Orient Cement and Leontopodium alpinum monetary Services that gave major gains. These two companies have risen in the range of 7% to over 8% in just 1 day, making many investors including Jhunjhunwala also rich. At around 1216 hours, share price of Orient Cement was trading at Rs 83.30 per piece up by 4.58% on Sensex. However, the companys stock has jumped by over 8 may 1945 after it clocked an intraday high of Rs 86.05 per piece on the index. Reason behind such optimistic performance are often attributed to the companys appointment of Varsha Purandare, as an additional Director for a 5 year tenor. Varsha Purandare has varied experience of 36 years in credit, forex, treasury, capital markets, investment banking, and personal equity businesses of state bank of India (SBI) & SBICAPS across geographies domestic & globally. According to TrendLyne.com data, Orient has given over 24-karat gold return in Jhunjhunwalas book in just one month. the big bull in Orient holds about 2,500,000 shares attributing to one.22% which ar value Rs 19.9 crore. Moving on to edelweiss monetary, the company was trading at Rs 170.50 per piece up by Rs 8.05 or 4.96% on Sensex. In early hours of trading session, edelweiss has jumped by nearly 7-membered with an intraday high of Rs 173.40 per piece. In edelweiss, the Warren Buffett of India holds about 1.07% stake with 10,000,000 equity shares worth Rs 162.6 crore. the company as per data, has given nearly 24-karat gold come in one month to the ace investor.
Rakesh Jhunjhunwala Looking For IRDA nod For Star Health Insurance Investment
Mar 11, 2019 | 11:34 AM IST
The big bull of Indian stock exchange, Rakesh Jhunjhunwala who is thought for his interesting finance pattern and his unerring foresight for finance in business has himself given clarification relating to the rumour that his association is reluctant to buy stake in Star health insurance.
Jhunjhunwala recently said in an interview said that the corporate is in reality awaiting approval from Insurance Regulatory and Development Authority (IRDA). Giving rest to the sooner speculation of birth control of the deal within which he wished to shop for thirty fifth stake in Star insurance. Jhunjhunwala is believed to be trying to shop for 35th stake within the insurer for an investment of 2,250-2500 large integer. According to some media reports, Safecrop Holdings, a association of WestBridge AIF, la Rakesh Jhunjhunwaand Madison Capital, has signed definitive agreements with the stakeholders of Star Health & Allied Insurance firms for the acquisition regarding 35th stock in the countrys largest independent health insurance underwriter. Rakesh Jhunjhunwaan is an Indian billionaire capitalist and trader known his infallible foresight in stock market business. He manages his own portfolio as a partner in his asset management firm named- Rare Enterprises and is also better-known Pied Piper of Indian bourses.
How Titan enriched Rakesh Jhunjhunwala
Nov 23, 2018 | 12:42 PM IST
Titan stock rate was taking quite some blows from traders today, a lot so that it tumbled by almost 2%, before finishing at Rs 914.65 per piece on BSE down by Rs 13.25 or 1.43%. however, here is why investors should not give this news plenty weight. Warren Buffett once said that he would rather invest in a extremely good organisation at a fair price than in a fair company at wonderful price. simply put, the domination of Titan over the Indian jewelry market makes it a one of its kind company. hence, when a company with good business model crashes then for investors it is generally an opportunity to make an investment. when it comes to Titan, the large bull of Dalal street has in no way allow the inventory out of his sight - perhaps, that is one enterprise in Jhunjhunwala's portfolio that has made him rich like no other.
While today was a bad day for Titan, that doesn't mean the company isn't set for achieving further greatness. The company is set to add more to Jhunjhunwala's pocket. even though Jhunjhunwala has mentioned in an interview that he does not wish to earn any money in 2019, it still does not mean that Titan will play along and now not offer returns to the ace investor!
To begin with, why Titan is an amazing stock? The company was at an all-time high of Rs 731.70 per piece on October 09, 2018. The decline was mainly due to every stock crumbling because the benchmark indices were facing heavy selling pressure. From second half of September month, till first two weeks of October 2018, the Indian markets saw the bear roaring.
In case you had read between the lines of a stock's overall performance, then simply, you too would have considered the crash as a buying opportunity. Even if you look at today's performance Titan touched an intraday high of Rs 933.55 per piece. At that level the stock makes an overall return of 27.85% to investors. The returns will not end here, that's for sure going forwarrd.
TrendLyne.com, which tracks Jhunjhunwala portfolio's performance, reveals that the ace investor gained almost 20% from Titan in just one month's time.
Also, Jhunjhunwala's portfolio has also seen gains from other stocks as well. To be specific, his portfolio has gained almost 71% in one month's time.
Jhunjhunwala faith and trust in the company is a lot that, when the whole thing changed into crashing in September, he made an investment in Titan.
TrendLyne.com data shows, between July to September 2018, Jhunjhunwala improved his holding in Titan via another 0.06% with 63,251,220 equity shares worth Rs 5,860.5 crore. until the previous day, the data revealed that Titan gave returns of approximately 16.74% in which his whole holding on this company was worth Rs 5,790.3 crore. monitoring the every day overall performance of Titan, Jhunjhunwala's holding price has risen.
It needs to be stated that, Jhunjhunwala had made a maximum cut in Titan among April - June 2018 quarter, as it turned into believed that a large Rs 1,135.61 crore from this company and now has about Rs 5,766.84 crore in June 2018 compared to March 2018 where the holding stood at Rs 6,902.45 crore.
Well bouncing back for Titan means definitely Jhunjhunwala sees the bigger picture of this enterprise. In a 12 monthss time, Titan has more than doubled on BSE. Titan has touched a low of Rs 522 per piece on July 27, 2017, and for the reason that then has won by means of 92.72% on BSE by touching a excessive of Rs 1,006 in keeping with piece. The cutting-edge fee of Titan indicates that the agency is seeing correction but does not imply the capacity is misplaced.
Not best this, Titan has shown a few greater than promising growth. Titan has a lowest market price of Rs 1.37 within the month of October 2001, since then the company has grown via a behemoth 73330.65% or 734.30 times currently in a span of 18 years.
Post Q2FY19, analysts at Jefferies stated, "TTAN reported strong sales growth of 26.4% yoy (~10% ahead of our est) driven by broad-based growth (28.5% in Jewellery, 17.3% in watches). EBITDA margins were down 210 bps yoy to 10.6% impacted by high base and few one-off costs. Management sounded confident of Q3 given strong festive demand and wedding segment pick. While recent correction has improved risk-reward,valuation still keeps us on the sidelines. Maintain Hold, PT Rs 920."
Alternatively, Krishnan Sambamoorthy and Vishal Punmiya, research Analysts at Motilal said, We believe that premium valuations are fully deserved for a business that has perhaps the best revenue growth potential in the large-cap FMCG/retail space (20% CAGR growth in Jewelry its largest segment in the next five years)."
Abneesh Roy and Alok Shah analysts at Edelweiss Financial Services said, We envisage Titan to extend its growth run led by market share gains, rising share of studded jewellery, new launches and retail expansion. Margin expansion levers such as higher share of studded (jewellery), in-house frame manufacturing (eyewear), cost optimisation and operating leverage are in place.
Following which, analysts at Edelweiss added, At 50x FY20E EPS, we arrive at TP of Rs 990. We maintain BUY/SO. At CMP, the stock is trading at 42.9x FY20E EPS.
Earlier, ICICI Securities on Titan stated, "We believe Titans growth story will remain multi-pronged and drawn over a longer time frame. Consequently, we shift to a DCF based valuation to arrive at a target price of Rs 1090 with a BUY recommendation on the stock. On a DCF basis, we assume revenue CAGR of 20% over FY17-23E and 11% over FY24E-30E with 10.8% WACC and 4% terminal growth rate."
Even HDFC Securities previously stated that, Titans valuation is seen upto $11,711 million (which is approx Rs 8,02,164.85 crore) ahead. Not only this, Titan is the only domestic company which will take on global players like Tiffany, LUK Fook, Signet Jewellers and Chow Tai Fook Jeweller.
Hence, if you want to earn and become a crorepati like Jhunjhunwala, then you must have a look at Titan. Grab it at its massive lows, and make a fair trading. Be patient, Be wise, Let Titan do the walking!
Now Follow Rakesh Jhunjhunwala's Latest Portfolio, Holdings And Track his Picks With Us. To Know His Latest Stock Picks Read Rakesh Jhunjhunwala's Latest Portfolio, Holdings, And Picks 2019
Rakesh Jhunjhunwala Buy SpiceJet & Fortis To His Portfolio
Oct 23, 2018 | 12:10 PM IST
Huge bull Rakesh Jhunjhunwala brought Fortis Healthcare and Spice Jet to his portfolio, even as increased stake in Dewan Housing Finance company, or DHFL, as well as NCC for the duration of the zone ended September, in line with statistics available as of October 16.
Jhunjhunwala buys stocks via his company uncommon enterprises, in his own or wife Rekhas call as well as inside the name of Rakesh Radheshyam Jhunjhunwala. name of companies in which Jhunjhunwala or persons acting in concert held more than one percent stake are disclosed inside the shareholding statistics released by the BSE as of October 16. As many as 13 companies have declared their shareholding pattern for the September quarter. Jhunjhunwala kept his stake constant in seven out of 13 companies which includes Agro Tech foods, Firstsource solutions, man InfraConstruction, MCX, and The Mandhana Retail Ventures. He raised his stake in housing finance company DHFL during July September quarter when the stock crashed 57 percent at the back of IL&FS-led liquidity crisis fears within the NBFC space. The carnage on D-avenue can be seen in Jhunjhunwalas portfolio, who's called Indias Warren Buffett by way of some. according to Forbes India, the ace investor is ranked 61 among Indian billionaires with a internet really worth of USD 2.5 billion. Maximum of the stocks inside the Jhunjhunwalas portfolio fell up to 58 percent from July until date which includes DHFL (down 58%), Jaiprakash associates (down 54%), SpiceJet (down 32%), Aptech (down 24%), and Agro Tech ingredients (down 20%), amongst others. Jhunjhunwala additionally brought SpiceJet, which has fallen 32 percent inside the sector till date and nearly 50 percentage so far in 2018. He raised his stake within the low-fee airline to at least one.25 percentage. Most of the airline stocks have been hit due to rising ATF costs, way to a rapid upward push in crude oil prices, in conjunction with the upward thrust in competition. Rakesh Jhunjhunwala also brought Fortis Healthcare to his portfolio by acquiring over 2 percent stake (1.25 crore shares) in the company for the quarter ended September. The stock rose marginally from the quarter to date however has fallen by way of about 14 percent up to now in 2018. Jhunjhunwala sold off his stake in 3 companies as of statistics collated on October 16 Crisil, Jaiprakash associates and Lupin for the quarter ended September.
Market Slide Took Two Mid-Caps of RK's Portfolio to a New Low
Oct 09, 2018 | 11:51 AM IST
Dalal street got a breather in today's trading session with both Sensex and Nifty 50 clawing themselves into the green. Sensex and Nifty 50 took a big hit last week, some thing that can be attributed to RBI's policy where the governor Urjit Patel led MPC maintained a status quo. however, the panic reversed, and today traders had 'buy' sentiment on exchanges, with Sensex trading at 34,500.48 above 123.49 factors or 0.36%, while Nifty 50 at 10,364.70 higher by 48.25 factors or 0.47% at around 12:57 hours. Shockingly, today was no longer an excellent day for Rakesh Jhunjhunwala, as buyers have been a 'sell' call in of its his favorite midcaps. When you have invested in renowned NBFCs like Edelweiss financial services and Dewan Housing Finance limited, just like Jhunjhunwala, then you are losing hefty money today. These two stocks have in fact touched an all-time low on stock exchanges.
To start with, the S&P BSE MidCap become worst performer on the benchmark index, as it became buying and selling at 13815.54 down by 188.7 points or 1.34%. That stated, in this index, the DHFL and Edelweiss have been pinnacle losers taking big hit from investors. DHFL taking the lead on losers list on midcap indices, turned into trading at Rs 244.50 in keeping with piece underneath Rs 29.80 or 10.86%. however, in first half of trading consultation, the corporation has hit a 52-week low of Rs 241.40 in line with piece losing via almost 12% on BSE. Not much is called to why investors are continuing to drive the ongoing bloodbath in DHFL share price, but the company has been going through an uphill struggle to restore faith. DHFL is among those NBFCs which have taken the worst of beatings on exchanges after the sector's liquidity position concerned buyers, something that may be blamed on IL&FS crisis - the company defaulted in settling its bonds due and some other financial responsibilities. On October 03, DHFL discovered that they have received payment of interest of Rs 2.59 crore against its Non-Convertible Debentures principal amount of Rs 9 crore. Going ahead, Edelweiss percentage price has also been down due to lack of faith from investors in NBFC sector. The company these days turned into trading at Rs 155.65 per piece down by Rs 20.25 or 11.51%. However, just like DHFL, Edelweiss has also touched a new low of Rs 155.10 per piece which led to overall of nearly 12% on Sensex. Last week, Edelweiss had announced that it maintained a Liquidity Cushion of ~9-10% of stability sheet in any respect factors of time. modern liquidity cushion stands at Rs 5,400 crores. in addition, medium and long time assets of finances are upwards of 68% of general balance sheet. Edelweiss even said, Adequate Liquidity Cushion currently positions us to meet all contractual liabilities over next 6 months even without roll-overs. however, traders seem to not take care of such optimistic function of Edelweiss. Coming to Jhunjhunwala, he owns about 2.76% in DHFL which comes to 8,665,264 equity stocks worth Rs 331.45 crore. interestingly, earlier the king of Dalal street held about 3.19% in DHFL, but he determined to shorten that protecting by 0.43% between April to June 2018 duration. In the meantime, in percent terms Edelweiss is Jhunjhunwala's smallest investment. The Warren Buffett of India holds about 1.08% in Edelweiss which are worth Rs 192.5 crore. Those have been not alone to look promoting stress, as a few different stocks of Jhunjhunwala also tumbled nowadays on Sensex. Aptech was down through 5.05% at Rs 136.25 per piece, Bilcare turned into at Rs 30 per piece beneath 5.36%, DB Realty at Rs 20 per piece down 3.85%, Escorts at Rs 561.35 according to piece lower by way of 4.03%, First source solutions at Rs 54.55 in step with piece down 4.97%, Jai prakash pals at Rs 6.29 in line with piece lower by using 3.97%, man Infra construction at Rs 37.05 per piece down 1.33%, MCX at Rs 661.70 per piece down 1.54%, NCC at Rs 70.35 per piece down 1.54%, Orient Cement at Rs 88.55 according to piece down 2.15%, Prakash Industries at Rs 106.60 in line with piece down 4.86%, Prozone Intu properties at Rs 29.15 in keeping with piece down 2.51%, VIP Industries at Rs 399.30 per piece down 2.43% and lastly The Mandhana Retail at Rs 40 per piece decrease by 1.84%. Jhunjhunwala's retaining inside the above stated are - Aptech (24.05%), Bilcare (8.48%), Mandhana Retail (12.74%), VIP Industries (3.69%), Prozone Intu (2.06%), Orient Cement (1.22%), NCC (nine.50%), MCX (3.92%), guy Infra (1.21%), Jaiprakash (2.06%), Escorts (8.12%), Firstsource (2.ninety%), Delta (7.forty eight%) andDB Realty (2.06%).
4 Money Making Picks of Rakesh Jhunjhunwala in H1FY18.
Sep 07, 2018 | 11:00 AM IST
Making an investment in equities comes with a sense of obligation because the method is unpredictable, volatile, even mysterious. However for ace investor Rakesh Jhunjhunwala funding in Indian marketplace is apparently like childs play, but it's far all critical stuff as it is his full-time business. The story of Jhunjhunwala and his appetite for equities is an inspiration for many traders because his approaches and pattern of investing encourages and stokes faith in markets returns. A total of 29 companies have Jhunjhunwalas love, when it comes to his investments, however, within the first 1/2 of 2018, that the Warren Buffett of India witnessed a few volatility in his portfolio. There were many times of wonder shopping for and selling that have been made by means of him that bowled over many buyers, but as Jhunjhunwala says in any market at any stage some shares are going to under perform and a few are going to outperform.
In line with Trendlyne.com records, majority of Rakesh Jhunjhunwalas shares made negative trend in first six months of 2018, however, there were 4 shares that became out to be cash making funding equipment for him. these 4 stocks gave huge return to Jhunjhunwala within the range of 17% to as huge as nearly 68%. now not only this, of the stocks has even more than doubled in a year on benchmark indices. The excellent performer for Jhunjhunwala is VIP Industries where the his retaining is ready 3.69% inside the organization. this would be about 5,215,000 equity shares really worth Rs 297.96 crore. VIP Industries has given return by means of 67.67% in H12018 to Jhunjhunwala. The stock has touched an all time-excessive of Rs 645.05 in step with piece and has surged by way of a whopping 189.26% in a year. Second excellent performer would be FirstSource solutions where Jhunjhunwala owns approximately 2.90% within the company. He has almost 2 crore equity shares in the organization worth Rs 150 crore. The stock of the corporation has grown by way of 46.21% in first six months of 2018. Similar to VIP Industries, this inventory has also greater than doubled in a year rising with the aid of 132.92% by way of touching an all time high of Rs 83.85 in line with piece. Going ahead, Dewan Housing Finance has also been under desirable books of markets, however it's miles noteworthy that Jhunjhunwala reduced his keeping on this organisation 0.43% in first 1/2. but this did now not stop the company in giving exact go back to Jhunjhunwala has it has increased via 28.71% in H12018 and by 50.16% in a 12 months with an excessive of Rs 690 in step with piece. Now Jhunjhunwala holds approximately 2.76% inside the organisation with 8,665,264 equity shares well worth Rs 560.21 crore. Ultimately, might be Lupin wherein Jhunjhunwala has these days hiked in funding inside the pharma massive. Jhunjhunwala has increased his conserving in Lupin by way of 0.03% and now overall has 1.72% with 8,798,605 equity stocks well worth Rs 794.38 crore. The enterprise on markets has rose via 17.38% in H12018. Closing 12 months, Jhunjhunwala had witnessed approximately 70% rise in his basic retaining. One can usually analyze from specialists who have been in this discipline for pretty a time and Jhunjhunwala is one such guy. As among many prices he also says, "Learn to anticipate trends and benefit from them. Traders should master ability to go against human nature." Jhunjhunwala 58, is said to be one of the maximum successful fairness traders in India, as he turned his funding of simply $one hundred, when he began trading, right into a massive $2.9 billion. He belongs to a center elegance circle of relatives and began his first trading on BSE in 1985. considering then he has decided on trading as a full-time profession. With one of these lengthy enjoy, for Jhunjhunwala getting cash from stock exchanges is seemingly, like a baby's play. however, it should also be recognized, that he has mastered the phrase patience in stock market. that may be a virtue that everyone in stock markets desires plenty of.
Rakesh Jhunjhunwala Cuts Holdings In 6 stocks In June Quarter; This Is Where He Invested
Jul 30, 2018 | 12:18 PM IST
As Sensex, Nifty touch new highs, Rakesh Jhunjhunwala portfolio soars; do you own these shares? As Sensex, Nifty touch new highs, Rakesh Jhunjhunwala portfolio soars; do you personal these stocks? Rakesh Jhunjhunwala says can provide it in writing, Modi government coming back in 2019 Rakesh Jhunjhunwala says can provide it in writing, Modi govt coming returned in 2019.
Rakesh Jhunjhunwala saw 70 percent rise in his portfolio in 2017; the ace investor extraordinarily bullish on Titan Rakesh Jhunjhunwala saw 70 percent upward push in his portfolio in 2017; the ace investor extraordinarily bullish on Titan. Rakesh Jhunjhunwala says Indian market is in state of correction; sheds light on midcap stocks Rakesh Jhunjhunwala says Indian market is in state of correction; sheds light on midcap stocks. 10 investment lessons from Rakesh Jhunjhunwala; become an ace investor 10 investment lessons from Rakesh Jhunjhunwala; become an ace investor. Among many fees of ace investor Rakesh Jhunjhunwala regarding trading in stock markets would be, Anticipate trend and benefit from it. Traders should go against human nature. considering Jhunjhunwalas recent funding traits, looks like this quote suits him best. Jhunjhunwala who has been unofficially anointed as the 'king of Dalal street', has always been firm on his word while he says stock will go up and down but grabbing opportunities is what matters maximum. Six months of 2018 have exceeded and noticeably, Jhunjhunwala has removed only a fraction of cash from his top holdings at the same time as adding them to different shares. Jhunjhunwala 58, is said to be one of the most a hit equity investors in India, as he has became his investment of just $100, whilst he started out buying and selling, into a massive $2.9 billion. A total of 29 companies have Jhunjhunwalas love, when it comes to investment, however, this year six companies saw some reduction at the same time as four companies witnessed an increase in holdings. As on June 2018, Jhunjhunwala reduced his holding by using 1.4% in his favorite stock Titan limited. He now holds about 7.06% in this company with general 62,751,220 stocks well worth Rs 5,553.48 crore. His previous holding in Titan became up to 8.46%. Next big reduction Jhunjhunwala made was in Dewan Housing Finance wherein he has sold about 0.43% of his holding in the company. Now, Jhunjhunwala holds 2.76% from previous 3.19. With this gradual discount in Dewan, Jhunjhunwalas protecting now stands at 8,665,264 shares worth Rs 535.86 crore. While a 0.07% and 0.04% turned into removed from Federal bank and Escorts in first half of 2018. In Federal financial institution, Jhunjhunwala now holds approximately 1.72% with 33,459,207 equity stocks worth Rs 302.97 crore. Meanwhile in Escorts, his holding stands till 8.12% with 9,957,632 stocks having price of Rs 919.9 crore. Further, 0.1% each changed into brought down by Jhunjhunwala in Crisil and Edelweiss financial services. Now in Crisil, the man who is referred as Warren Buffett of India, holds 5.52% with 3,965,000 equity stocks really worth Rs 717.27 crore. While in Edelweiss his holding has come right down to 1.08% with 10,000,000 shares valuing at Rs 299.55 crore. Jhunjhunwalas lowest keeping is in Edelweiss many of the 29 stocks. With this, Jhunjhunwala decreased overall about 1.96% of his keeping till June 2018. While the above noted organizations noticed reduction in holdings, Jhunjhunwala took the possibility in growing holdings in 4 of his shares. About 1.78% turned into accelerated in these 4 stocks, beneath which Jhunjhunwala invested maximum in Karur Vysya financial institution. He elevated his keeping via 0.86% in Karur to 4.22%, now having 30,712,288 shares worth Rs three hundred.sixty seven crore. Perticularly, second maximum investment turned into made in debt-weighted down Jaiprakash associates wherein Jhunjhunwala brought any other 0.83% inside the business enterprise. He currently holds 2.06% with 50,000,000 shares really worth Rs 75 crore in Jaiprakash. A marginal increase of 0.06% was visible in NCC, in which Jhunjhunwala now holds 9.50% with 57,0.5,932 fairness stocks worth Rs 534.61 crore. Lastly, Jhunjhunwala noticed opportunity in pharma major Lupin, where he has increased his holding by 0.03% to 1.95% with 8,798,605 shares worth Rs 719.02 crore. Jhunjhunwalas top holdings is still in Titan, followed by way of companies like NCC, Escorts, Dewan Housing, Lupin, Crisil and Delta Corp.
Stocks Jhunjhunwala Bought & Sold In The June Quarter
Jul 18, 2018 | 11:39 AM IST
There are 29 recognised companies in which big Bull Rakesh Jhunjhunwala holds at least one percent stake.
In June quarter, this ace investor stayed put on most of these counters, June quarter shareholding data showed. Jhunjhunwala, often referred to as Warren Buffett of Dalal road, accumulated shares of Orient Cement and LupinNSE -2.28 %, however sat tight on 11 other counters during the quarter that saw cash chase only choose largecaps amid a major selloff in midcaps and smallcaps. Facts showed Jhunjhunwala sold 1 lakh fresh stocks in Lupin during the quarter to take his keeping to 2 per cent from 1.9 per cent at the end of March quarter. At Wednesdays trading charge, Jhunjhunwalas holding in the pharma fundamental was really worth Rs 750 crore. There are many other organizations where the big Bull holds marginal stakes, which regularly do not show up within the quarterly shareholding data, as companies record on shareholders who hold more than 1 percent. One such company is Orient Cement, where the ace investor held 1.2 per cent stake at the end of June quarter, the identical percentage he held at the end of December quarter. Jhunjhunwalas call did not figure in March quarter shareholding data of the company, making a few investors speculate if the ace investor who generally stays put on his portfolio for the long term had shunned the counter completely. Jhunjhunwala did not make any change to his holdings in Aptech, Edelweiss economic services, Firstsource solutions, Geojit financial ServicesNSE 1.59 % and Ion exchange. He also maintained his holdings in man Infra construction, MCX, CrisilNSE 0.46 %, Rallis India and VIP IndustriesNSE 0.63 %. Shareholding styles of many other groups that he holds in his portfolio are yet to be disclosed and they might show a few interesting trends . For example, the market guru had trimmed his stake in Titan, his biggest keeping, for the duration of the quarter through bulk offers. His stake inside the company dropped to 6.54 crore shares, or 7.37 per cent stake, from 7.79 crore share crore shares, or 8.78 per cent stake, as of May 21, 2018. Besides, Jhunjhunwala-owned rare companies picked 1.30 crore stocks in direct-to-home operator Dish TVNSE -0.73 % inside the middle of June, accounting for 0.71 per cent stake, NSE bulk deal statistics showed.
This Rakesh Jhunjhunwala's favorite stock Can beat Bitcoin?
Jul 16, 2018 | 02:19 PM IST
In case you want to make proper money through making an investment in equities, you may to take a look at an experts way of making an investment. After all, their success can be a great gaining knowledge of story for you to profit from on stock exchanges. And who could be better than Dalal street king, Rakesh Jhunjhunwala? each equity lover is familiar with this name, and it wouldnt wrong to say his investment strategies in relation to equities, are commendable. However, investing in equities is a little like of venture in which, one must always remember, the investor is not pulling the strings the stocks are driven by many things, including even sentiment. therefore, you dont want to make a wrong investment and later regret. One aspect an investor should remember is that, investment in equities are best on a long-time period basis if s/he wants to attain maximum benefits. And if the stock is chosen accurately, it can result in a major success tale and whats better than learning from ace investor Rakesh Jhunjhunwala who has been on this field for a very long term and has turned it into a large success. Jhunjhunwala has been known as the Warren Buffett of Indian stock markets!
Jhunjhunwala 58, is said to be one of the most successful equity buyers in India, as he grew to become his funding of simply $100, while he started trading, into a large $2.9 billion. He belongs to a middle class family and started his first buying and selling on BSE in 1985. since then he has selected trading as a full-time career. With such a lengthy experience, for Jhunjhunwala earning money from stock exchanges is outwardly, like a baby's play. however, it should also be known, that he has mastered the word patience in stock market. that may be a virtue that everybody in stock markets needs lots of. Among many investment quotes of Jhunjhunwala, one which stands proud goes like this, Invest in companies which have strong management and competitive advantage. This quote is excellent suitable for investors who have invested in Jhunjhunwalas favorite inventory Titan enterprise, as this one is now seen as money making magnet in its sector and exchanges. In a yrs time, Titan has more than doubled on BSE. Titan has touched a low of Rs 522 per piece on July 27, 2017, and since then has received by 92.72% on BSE by touching a high of Rs 1,006 per piece. this is higher than the 31-scrip and 51-scrip indexes as well, as each Sensex and Nifty 50 have grown among 20% - 22%. On Friday, Titan completed at Rs 836.50 per piece above 3.42% on BSE. however, during the day, the stock has grown by means of nearly 4%. This has grown with the aid of 57.08% from Rs 534.6 in keeping with piece which stood on the same day of preceding yearr. On MCX, Titan is at a premium of 8.1% in comparison to other rivals like Tribhovandas Bhimji Zaveri (TBZ) which stands at 6.5%, PCJ at 3.9%, Thangamayil at 4.4% and Kalyan at 3.3%. not best this, Titans marketplace capitalization is at Rs 74,263.31 crore as on July 13, 2018, that's like 2.71 times higher than the entire gems & jewelry stocks on BSE. a total 20 jewelry stocks apart from Titan holds a cumulative market cap of Rs 27,344.05 crore. Titans peers pc Jewellers has a market cap of Rs 4,731.64 crore, while Thangamayil at Rs 577.94 crore and TBZ at Rs 567.54 crore. apart from Titan, only Rajesh Exports has a market cap of Rs 16,806.20 crore. Consistent with HDFC Securities, Titans valuation is seen upto $eleven,711 million (that's approx Rs 8,02,164.eighty five crore) in advance. now not simplest this, Titan is the only home business enterprise with a view to tackle worldwide gamers like Tiffany, LUK Fook, Signet Jewellers and Chow Tai Fook Jeweller. Do you want to know a fun truth? Titan is a better success story than even Bitcoin cryptocurrency. each coming day Bitcoin is losing its golden touch inside the cryptocurrency marketplace. due to Bitcoin, traders have misplaced religion in other digital cash like Ethereum, Litecoin, Bitcoin cash and Ripple. Bitcoin currently trades at $6,298.60 with a marketplace cap of $108.02 billion. apparently, Bitcoin is just few billions away from falling under $100 billion market cap. The downfall of Bitcoin was as large and quick as its upward push - it grew 141,825.71% or 1419.26 times by December 17, 2017 - to clock $19,869.60-mark not so long ago. If we compare to current market price of $6,298.60 with $14 in the starting of 2013, this coin has now grown by 44,890% until now. But Titan has proven some promising increase. Titan has a lowest market price of Rs 1.37 within the month of October 2001, since then the company has grown by a behemoth 73330.65% or 734.30 times currently in a span of 18 years. Titan will grow furthermore not like Bitcoin whose trajectory no one can predict effectively, but considering that government after government is banning it, the direction is downward. Also one excellent comparison is marketplace cap, Bitcoin now is close to $108 billion, while Titan is seen to bag market valuation of over $126 billion if we have a look at HDFC's prediction. Earlier, ICICI Securities on Titan states, "We believe Titans growth story will remain multi-pronged and drawn over a longer time frame. Consequently, we shift to a DCF based valuation to arrive at a target price of Rs 1090 with a BUY recommendation on the stock. On a DCF basis, we assume revenue CAGR of 20% over FY17-23E and 11% over FY24E-30E with 10.8% WACC and 4% terminal growth rate." Rohit Harlikar and Jay Gandhi analysts at HDFC Securities said, "Indias jewellery story is mostly about the SUPERPACK (17 organized jewellery chains that will grab ~42% share in the next five years). The SUPERPACK has significant diversity in current operations as well as growth strategies." The duo Adds, "Titan looks like the big winner right now, but DEFENCE will be the operating word as SUPERPACK closes in. Business gains are priced in." Titan remains a distant leader in terms of national presence, able contenders are visible across all zones. As in line with HDFC Securities, given the modern design/capital arbitrage, we agree with Titan will have a head-start on the customer acquisition race over FY18- 21E. Co is confident on achieving its aspired 25% jewelry sales growth in FY19E. however, peer gaps will reduce post FY21 (segment 2 of our medium time period view) and Titan will find itself protecting turf against very sturdy and able challengers throughout India. Jhunjhunwal's largest preserving is seen at Titan which is well worth extra than $900 million. He currently holds 8.46% in the organisation. considering this you might need to element approximately Titan as an funding option very critically.