Niveza Assures the Right Propaganda of Your Brand
Advertising is a means to persuade people to take some action with regards to your brand. The main concern is to get a definite platform where you can attract your targeted audience towards your brand. If you are in search of such a platform, niveza.in is the right place to publicize your brand. Niveza is the World's first decision engine and social network dedicated to investing in stock market and have already attracted large community. Being a stock market website we have members frequently visiting our website on daily basis. We would be glad if we could ease your efforts towards getting a reliable audience network to help grow and enhance your brand. We assure you the right space and ample audience for your esteemed brand.
Audience Network USP:
390420+ strong community of stock market investors, projected to 10,00,000 investors by end of 2013
45000+ member visit per month and nearly 2000 active members per day.
The total member growth of 1083% in a year.
Age group between 18 to 45 which is the best consumer group in India.
High income group of stock investors on this site can generate higher revenue than average.
Consistent improvement in user engagement, page views per visit grew 155% from last year.

Facebook Likes.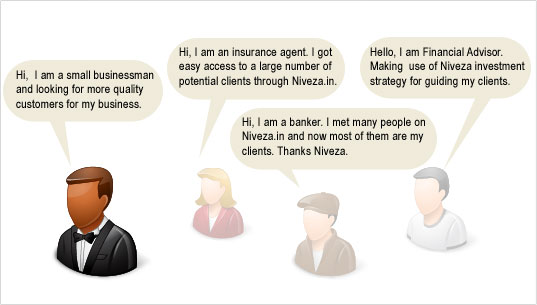 Advertising Rates Per CPM (1000 Impressions)
Top
(Best Visibility)
Middle
(Good Visibility)
Bottom
(Avg Visibility)

Web Image Ads

Rs. 150 (M)
Rs. 135 (M)
Rs. 122 (M)
Rs. 135 (Q)
Rs. 122 (Q)
Rs. 110 (Q)
Rs. 128 (HY)
Rs. 115 (HY)
Rs. 104 (HY)

Web Text Ads

Rs. 100 (M)
Rs. 90 (M)
Rs. 81 (M)
Rs. 90 (Q)
Rs. 81 (Q)
Rs. 73 (Q)
Rs. 85 (HY)
Rs. 77 (HY)
Rs. 69 (HY)

Email Image Ads

Rs. 120 (M)
Rs. 108 (M)
Rs. 99 (M)
Rs. 108 (Q)
Rs. 99 (Q)
Rs. 90 (Q)
Rs. 102 (HY)
Rs. 92 (HY)
Rs. 85 (HY)

Impression will be counted only when email is opened.

Email Text Ads

Rs. 80 (M)
Rs. 72 (M)
Rs. 65 (M)
Rs. 72 (Q)
Rs. 65 (Q)
Rs. 59 (Q)
Rs. 68 (HY)
Rs. 61 (HY)
Rs. 55 (HY)
M- Monthly, Q - Quarterly, HY - Half Yearly, CPM - Cost Per 1000 Impressions
Advertisement Size:
| | | | |
| --- | --- | --- | --- |
| 200 x 200 | 336 x 280 | 728 x 90 | 160 x 600 |
| 120 x 600 | 468 x 60 | 250 x 250 | 234 x 60 |