rakesh jhunjhunwala

's

Portfolio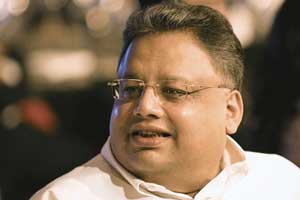 | | |
| --- | --- |
| Gain | 0.9363 |
| Vs.Nifty | 68.79% |
| Success | 78.0000% |
| Strategy | MultiBagger |
About Me: Rakesh Jhunjhunwala's name is a synonym to stock investment. Such is the credibility of Rakesh Jhunjhunwala that his one word, sometimes even a hint, can turn the market upside down. There is a reason why investors swear by his "look before you leap" philosophy. Let's shed some light on the remarkable success story of the big bull of Dalal... Read More>>
About Me: Rakesh Jhunjhunwala's name is a synonym to stock investment. Such is the credibility of Rakesh Jhunjhunwala that his one word, sometimes even a hint, can turn the market upside down. There is a reason why investors swear by his "look before you leap" philosophy. Let's shed some light on the remarkable success story of the big bull of Dalal Street. A journey that started with Rs 5,000 and has reached whopping 13,000 crores! Yes, he's an investment wizard all right. Rakesh Jhunjhunwala's holdings consist of stocks cherry-picked purely on the basis of fundamental analysis and value investing strategies. Rakesh Jhunjhunwala's holdings are the perfect ambassador of his belief in long-term investment and value investing. His portfolio includes low priced and mostly small-cap and mid-cap stocks. His genius lies in finding stocks from the scrap by recognising their long-term investment potential. Over the years, he has identified many gems which have given him multibagger growth. For his knack of picking winners, he is often called Warren Buffett of India. There are uncanny similarities between these two master investors. Both hold their investments for a considerably long period and have built their wealth by banking on undervalued stocks. From Sesa Goa to Lupin Jhunjhunwala has an array of stocks which became the 'favourite' stocks of the market long after Jhunjhunwala spotted them. Being an HNI investor, he doesn't enjoy a lot of privacy in his investing as whatever moves he makes become the headlines of the major financial newspapers, channels and portals. In our endeavour to bring you the up-to-date information of Jhunjhunwala's portfolio, we have captured all his trades from the hybrid sources and have compiled a consolidated portfolio here. We aim to keep updating Rakesh Jhunjhunwala's latest buys and sells as and when they happen and also keep a tab on Rakesh Jhunjhunwala latest picks and tips. << Hide
| | |
| --- | --- |
| Positions by sector | Gain distribution by sector |
Rakesh Jhunjhunwala Says 2018 Might Be The Year Of Consolidation
Jun 21, 2018 | 06:04 PM IST
In step with Rakesh Jhunjhunwala, there's no credible leader inside the opposition party to take on PM Modi. I am sure that the next government will be a BJP government in spite of what people beings feel, he stated.
Indian equity market, which bottomed out in August 2013, noticed a stellar run in 2017 and in 2018 innitialy, boosting Nifty50 better to the touch 11,000-mark in 2018, however now it perhaps be in for a few consolidation, Rakesh Jhunjhunwala, associate, rare organizations stated in an different interview with CNBC-TV18. We witnessed massive up move in markets and if the market remains within the variety of 10,000-11,000 for the next 1 year,I would be very happy, he added. In his discussion with CNBC-TV18, he said that traders must now not get disheartened with the current correction. the bull market cannot end at the current level of profits-to-GDP. The flow of local money into equity markets has simply started and the flow is unlikely to stop anytime soon. We might have lost about 7-8 percent from the highs but there is tremendous correction in the midcaps. I dont think political uncertainty will take down the market beyond a point, explains the big bull. Commenting on political situation and its impact on markets, the big bull said that Modi is the most towering leader of this country and it would be too early to predict the outcome of the 2019 general elections. Also, India or market is not dependent on any political party. The anecdotal proof propose that market generally unearths a few motive to upward push again. In 2004, while BJP lossed elections, marketplace went to 4,600 after which eventually it went to 25,000. I'm now not bothered too much approximately politics, explains Jhunjhunwala.
top Sectors & stocks in awareness:
Tata steel
He's extreamly bullish on Tata steel as he sees major upward rise in EBITDA (profits earlier than interest, tax, depreciation, and amortisation) if steel costs stay at modern-day levels.
Pharma
"I am pretty sure that worst is behind for pharma sector as generic competition in the US is leveling off," Jhunjhunwala stated. He's positive on the home branded pharma business. "Indian pharma enterprise is coming into unknown, however thrilling area." Healthcare majors sun Pharma & Lupin entered into speciality generics, the following next leg of growth.
Banking
He feels there's an exceptional boom opportunity within the banking section. "Once provisioning normalises for banks, earnings & multiples will expand. Banks with legacy problems will show strong growth," he said. He is extraordinarily bullish on banks. "ICICI Bank carries characteristics of HDFC Bank in terms of CASA. For ICICI Bank, FY19 will see repair & FY20 will be a year of clean growth." Return on assets and return on equity of private banks with legacy troubles will improve in FY19 & FY20, he feels. Jhunjhunwala stated NCLT (National Company Law Tribunal) & IBC (Insolvency & Bankruptcy Code) will inculcate a sense of credit discipline. "people are underestimating lengthy-time period benefits of IBC & NCLT."
Healthcare Insurance
Jhunjhunwala is bullish on healthcare insurance in India. He sees numerous growth possibility in medical health insurance. "Healthcare coverage in India can grow 20 percent for the subsequent 10-15 years."
Real Estate
He sees great next 2-3 years for the real estate sector. "I don't think real estate prices will increase, but volumes will grow. We are underestimating the positive impact of affordable housing," he said. Jhunjhunwala has some investments in the real estate sector.
Intake space
All the potential growth in consumption stocks is priced in, he said, adding over next 5 years, FMCG returns might be lower than FMCG earnings growth.
This Rakesh Jhunjhunwala Stock Doubled Money In 6 Months By Outperforming TCS & Infosys.
Jun 12, 2018 | 03:51 PM IST
We bring your interest to a mid-cap IT stock owned by using the legendary investor Rakesh Jhunjhunwala. Fairly, this mid-cap IT proportion has also outperformed heavy weight industry friends TCS and Infosys within the ultimate six months, as far as the returns are concerned.
Indias stock markets have gone through the roller coaster trip in the last six months with many stocks going up with the breeze inclusive of Merck, Indiabulls Ventures, HEG, Jubilant Foodworks. all the aforementioned stocks have again 60-120% in the corresponding length while the headline indices Sensex and Nifty have grown 5 to 6 percent . While, then again, the benchmark Nifty IT index has advanced approximately 23% using at the again of appreciation in blue-chip stocks of Infosys and TCS. We bring your interest to a mid-cap IT inventory owned by means of the legendary investor Rakesh Jhunjhunwala. distinctly, this mid-cap IT proportion has also outperformed heavyweight industry peers TCS and Infosys inside the closing six months, as a ways because the returns are concerned. Share prices of the Mumbai-situated IT provider provider Firstsource solutions have risen more than a 100% inside the last six months and apparently, this stock has vastly outperformed as compared to the returns of TCS and Infosys stocks. The stock of Firstsource solutions has surged 106% to Rs seventy nine.25 from a stock price of Rs 39.four on NSE. within the similar time, inventory returns of TCS and Infosys stood at 31% and 25%, respectively. According latest statistics available with Bombay stock exchange (BSE) as at 31 March 2018, ace investor Rakesh Jhunjhunwala owns 2 crore equity stocks or 2.91% of Firstsource answers. Notably, Indias second-biggest private area lender ICICI bank additionally holds about 4.78% or 3.28 crore fairness shares of Firstsource answers. Firstsource answers stocks are falls underneath A group of BSE and are a thing of S&P BSE 500 and NSE 500 indices. Firstsource solutions commands a market capitalisation of Rs 5,459 crore. Firstsource solutions is a business process management services firm which gives up facility end to end customer lifecycle management across different industry verticals such as telecom and media, BFSI, healthcare.
Rakesh Jhunjhunwala Exited Company In Nick Of Time; Stock In BSE, NSE Scanner Now
Jun 12, 2018 | 12:59 PM IST
Rakesh Jhunjhunwala reduced his stake in the firm from 13.46 per cent in the June quarter to 8.42 per cent in the September quarter.
Rakesh Jhunjhunwala is indeed a sensible investor. however, worryingly, one stock that graced his portfolio for so long has simply been included in BSE and NSE's additional surveillance measures (ASM) listing, suggesting all isn't going well with the business enterprise. however, the ace investor that he's, Jhunjhunwala reduce his holdings in the stock below 1 in keeping with percent or nil with the aid of the December quarter of financial year 2017-18. The big Bull reduced his stake within the company from 13.46 percent within the June sector to 8.42 consistent with cent inside the September quarter. He similarly reduced his positions within the stock with it finding no mention in his portfolio in the December and March quarter. This indicates he both bought all stakes within the organization or reduced it below 1 percent. substantially, exchanges call most effective the ones shareholers in the shareholding report who very own over 1 percent stake inside the firm. The stock is a hotel company. Any guesses? Yes, it is none other than Viceroy Hotels. The stock of the company dipped a whopping 53 per cent so far in 2018. It has shed over 86 per cent in the last ten years, while Sensex grew 135 per cent. The inventory was frozen in its higher circuit of 5 in line with cent in Monday's change. It quoted at Rs 80.41 on the BSE. Founded in 1965, through Sri Prabhakar Reddy and Associates. Viceroy hotels took up 150 Room 3 star person hotel undertaking and started its commercial operations in 1993. At some point of 2003, Viceroy hotels restrained entered into an agreement with Marriott international Inc, USA. For franchise, advertising and operations underneath the emblem of "Marriott" for a duration of 20 years. Viceroy inns presently owns 297 Room hotel below the brand of "Marriott" 120 Room hotel under the logo of "Courtyard Marriott" in Hyderabad and 56 Room lodge in Himayatnagar, Hyderabad. Viceroy hotels limited is likewise a conserving agency of Cafe D Lake private constrained which owns great Dine eating places within the call and fashion of "Minerva Coffee Shop" and Fine Dine Bars in the name and Style of "Bluefox". The company presently owns excellent Dine restaurants and Bars in Hyderabad and Vijayawada. Menahwile, general price of Rakesh Jhunjhun portfolio got here in around Rs 19,960 crore as of June 2, in step with a file on cash Excel. Jhunjhunwala continues his most important holdings in Titan, Lupin and CRISIL, respectively.
This IPO Bound Firm Has Jhunjhunwala Backing, To Exploit Betting On 2018 FIFA World Cup
Jun 05, 2018 | 07:05 PM IST
Ace investor Rakesh Jhunjhunwala in December bought a stake in a Mumbai-based totally on line gaming company, which has just improved its enterprise horizon through securing a having a bet licence in Kenya.
The company with operations in 61 nations is expected to launch its initial public supplying coinciding with the 2018 FIFA world Cup in Russia.
With fresh investments, the organization plans make the most making a bet in sports activities and the myth marketplace in the African international locations, starting with the FIFA global Cup 2018.
The corporation is Nazara technology.
Its subsidiary NZWorld Kenya, in which the employer holds 70 according to cent Stock, is making plans to release sports activities making a bet, sports fantasy, sports activities arcade and sports activities real cash quiz, beginning with FIFA in June 2018.
Nazara recentaly made many investments, which includes in MasterMind sports activities, Moong Labs and HalaPlay. It lately received Chennai-based totally NextWave Multimedia which predominately makes a speciality of growing casual and multi-participant mobile games in sports activities genre. in addition, it acquired a 55 % in step NODWIN Gaming.
As ESL, the arenas largest eSports (electronic sports activities/seasoned gaming) business enterprise, lately invested in Nazara, its subsidiary NODWIN secured exceptional rights of the use of the ESL machine and platform for next 5 years, Nazara has been trying to increase its presence in the eSports eSports business.
In having a bet video games, actual money gaming is quite popular in African countries like Ghana, Nigeria, Cameroon and Kenya. in contrast to India, where having a bet isn't allowed in sports activities, there is a really laid-out licensing framework in Kenya.
The product proposed for Kenya is a real-time social predication sports game, where players can bet real time among their friends, which was developed by one of Nazaras investee companies, Mastermind Sports (Mastermind), Pratik Shah, Founder & CEO, Mastermind Sports, said in a statement.
Worldwide, real-money sports gaming is becoming mainstream. We believe that Africa, starting with Kenya, presents a growth opportunity for us with their appetite for live sports gaming, he said.
In December 2017, ace investor Rakesh Jhunjhunwala obtained stocks within the enterprise from Westbridge. some other investor, Utpal Seth, also obtained stocks in the IPO-certain organisation.
The two have been given the first right to participate or join all fairness shares in any fund elevating by means of the agency if Nazara does no longer adopt an IPO by December 7, 2018.
Additionally, with out the affirmative written consent of Rakesh Jhunjhunwala and Seth, Nazara will now not undertake positive moves which include elevating new capital, change within the scope of business, related party transactions, trade in rights associated with equity stocks and any acquisition, the agency said in the draft prospectus.
At the time of the draft submitting, Jhunjhunwala had 3,294,310 shares, or 12.21 per cent stake, in Nazara, being the third largest shareholder.
During the six-month period ending September 30 2017, the enterprises global operations accounted for 79.13 in keeping with cent of general revenue. Africa accounts for 19 consistent with cent and West Asia nearly one-third. The corporation has business pursuits in West Asia, Southeast Asia and Latin america, besides India.
The global gaming market is projected to boom to $151.7 billion with the aid of 2021. international eSports revenue is forecast to attain $1.68 billion in 2021, greater than triple the full revenue in 2016.
Nazara mentioned Rs 190.18 crore sales for FY17 and Rs 83.89 crore for the six months ending September 30, as in line with the agency's draft papers filed with Sebi. The enterprise reported Rs 19.eighty four crore profit in H1FY18 compared with Rs 59.72 crore in FY17, where it attributed the fall to one-time worker advantage expenses for implementation of the ESOP 2016, and fee of tax on dividend profits from subsidiaries in Dubai and Singapore into India.
West Bridge Leads Race For Star Health
Jun 04, 2018 | 05:53 PM IST
An investor consortium led by using personal equity fund WestBridge Capital partners, which includes ace stock market investor Rakesh Jhunjhunwala, has emerged because the frontrunner to accumulate Indias largest independent medical health insurance company star health and Allied insurance valued at simply beneath $1 billion, peoples directly aware of the matter stated. The WestBridge consortiums all-cash provide has pulled beforehand in a decent race with ICICI Lombard and is holding superior talks for an drawing close deal. The institution is learnt to have matched ICICI Lombards provide, valuing big name fitness at about Rs 6,500 crore, humans aware about the talks instructed TOI.
ICICI Lombard, which positioned a cash-cum-proportion swap provide, insisted on exclusivity to take discussions ahead, which megastar fitness and its buyers werent keen on, resources cited in advance said. A joint bid by means of PremjiInvest, the circle of relatives workplace of IT primary Wipros founder Azim Premji, and Prudential became another contender inside the fray.
The countrys first stand-alone health insurance venture is the brainchild of V Jagannathan, former head of public sector insurer United India Insurance. The company financial buyers Sequoia Capital, Tata Capital, ICICI task, Apis companions and Oman insurance company are all seeking an go out in a transaction that is being counseled via Kotak Mahindra bank.
If the talks stay on the right track, the WestBridge consortium ought to input into definitive negotiations within a fortnight with big name health. superstar fitnesss Jagannathan did not provide any feedback at the development, whilst a mail sent to WestBridge did no longer elicit a reaction until the time of going to press.
A shareholder stand-off among star healths original promoter ETA, a middle eastern organization, and a number of the employers different buyers has not on time the deal. big name kicked off the sale talks in October remaining 12 months. The control, led by using Jagannathan, can have a say in choosing the sale of the organisation, which additionally deals in personal coincidence and tour coverage covers.
If the transaction avoids similarly hiccups, this would be the biggest wager via WestBridge an India-focused non-public equity investor, coping with belongings really worth extra than $2.five billion. The deal-making pastime in economic services, and insurance specifically, has picked up pace with installed players stepping into merger and acquisition mode.
Smaller insurers have been suffering to meet solvency necessities in a high-boom and hyper-aggressive enterprise poised for consolidation. current traders discover the timing ripe to cash out as valuation benchmarks within the coverage sector were being set up via a slew of preliminary public offers (IPOs) and M&A hobby. In February this 12 months, TOI first mentioned that HDFC Ergo was in discussions to acquire Apollo Munich in yet every other consolidation flow in medical insurance, although the transaction has been stalled, in the intervening time as a minimum.superstar fitnesss promoter group holds near round forty four%, of which 37.5% is with domestic and six.16% is with overseas investors. celebrity fitnesss total foreign investment within the organization stood at 36.five% as against the maximum permissible 49% shareholding.
The enterprises paid-up capital stood at Rs 456 crore. The enterprise had suggested a net profit of Rs 118 crore from a complete premium of Rs 2,960 crore in FY17. It had incurred a claims ratio of 60%.
The total medical health insurance marketplace in India stood at Rs 34,527 crore ultimate monetary up 26% from Rs 27,457 crore inside the preceding year.
3 Listed Firms In Top 100 Luxury Brands List; Rakesh Jhunjhunwala Owns One
May 23, 2018 | 05:24 PM IST
Rakesh Jhunjhunwala owns over 8 % stock in Titan. Main part of his portfolio is invested in the company, which is considered his favored stock.
Consulting company Deloitte blanketed 3 listed Indian corporations and unlisted in its latest report on luxury brands. The file named "Global Powers of Luxury Goods 2018" counted Titan agency (ranked 28th), Kalyan Jewellers India (37th), computer Jeweller (43th), Joyalukkas India (49th), and Tribhovandas Bhimji Zaveri (89th) among one hundred biggest luxury goods agencies within the world. Amongst these five, Titan, pc Jeweller and Tribhovandas Bhimji Zaveri are indexed on BSE and NSE, and feature given mixed returns inside the last one year. Titan is up 92 % to Rs 917, PC Jeweller is down 10 % to Rs 198.65, while TBZ gained simply 9 % to Rs 95 in the last year. Ace investor Rakesh Jhunjhunwala owns over 8 % stake in Titan. Principal part of his portfolio is invested within the corporation, that is considered his favourite stock. In the March area, the Tata institution company said 70.86 per cent jump in consolidated net earnings at Rs 304.41 crore. Brokerage Edelweiss Securities has a buy rating at the inventory with a goal rate of Rs 1,160. "We envisage Titan to extend its growth run led by share gains, entry in new segments and retail expansion. Moreover, rising share of studded jewellery, cost optimisation and operating leverage are likely to aid margin. At 55x FY20E EPS, we arrive at TP of Rs 1,160. Maintain BUY/SO. At CMP, the stock is trading at 46.7x FY20E EPS," Edelweiss said in a results review report. PC Jeweller share price, meanwhile, witnessed a roller-coaster trip on Dalal road as rumours of promoters selling their stake within the company surfaced. The company is scheduled to file its March quarter numbers on Friday. The stock received 10 % to hit its intraday high of Rs 210 in today's exchange. Within the March quarter, TBZ said 9.6 in step with cent SSG and Rs 7.04 crore PAT led via almost 10 per cent extent increase and stepped forward footfall in wedding season. TBZ management made a forecast of opening 15 store in FY19 which includes 10 owned stores, indicating reasonable level of success with final 4 year stores in Malls. "Although the move is positive, we remain cautious as target of adding 30 stores in next two years (base of 37 stores) need support from good demand scenario. TBZ is back on the dividend list (7.5%) after a gap of 2 years, which shows management confidence in growth and sustaining cash flows. Balance sheet remains healthy with flat inventories and just 4 per cent increase in debt. We estimate 37 per cent PAT CAGR over FY18-20 and value the stock at 20xFY20 EPS of Rs 6, thus assigning target price of Rs 120. Retain Accumulate," said Prabhudas Lilladher in a research report. Meanwhile, commenting on the Indian luxurious items region a Deloitte India spokesperson said: "India is currently undergoing a rapid digital transformation, whilst battling the challenges of high import duties, introduction of GST and unstable price parity. However, with a positive economic outlook, the demand for luxury goods segment is poised to rise in 2018." As consistent with the Deloitte Report, the worlds top 100 biggest luxurious items agencies generated income of $217 billion in financial year 2016 and the common luxury goods annual sales for top 100 companies is now $2.2 billion.
Street Symptoms: Jhunjhunwala Shares, Analysts Bullish On MPS And Extra
May 22, 2018 | 04:08 PM IST
Chief govt officer Sundeep Sikka has been shopping for shares of Reliance Nippon life Asset management (RNAM) from the open marketplace amid weak point within the asset supervisor's inventory fee.
Key Jhunjhunwala shares see sell-off Aptech and Escorts, key stocks in billionaire investor Rakesh Jhunjhunwalas portfolio, got here beneath heavy selling strain ultimate week. stocks of Aptech dropped eight according to cent, and people of Escorts declined seven in line with cent on Friday. Jhunjhunwala holds more than 12.6 % stake in Aptech and 9.2 per cent in Escorts. Except these stocks, different key holdings of Jhunjhunwalas which includes Lupin, Crisil, Tata cars and Aurobindo Pharma have also come below promoting pressure in recent months. Samie Modak Analysts bullish on .
Rakesh Jhunjhunwala's Stock Grew By 16,185% In 18 Years
May 22, 2018 | 03:24 PM IST
This stock's price may be very unique because the degrees it has touched, no no other has managed to do. Even Sensex has no longer controlled to obtain this type of growth.
Markets are supposed to make headlines. After they contact new milestones whilst performances are buoyant they get talked about lots and unfold cheer and after they do not, they nevertheless entice all the attention-balls but the feelings are reversed. Equal for stocks. But, indices or stocks, very few emerge as making records. This one that we're talking about, in reality did. when we talk of the top notch individuals inside the markets who've completed incredibly nicely, for India it's Rakesh Jhunjhunwala and for the arena it's miles Warren Buffet. every body ought to take the classes those legends engendered to coronary heart and hope at some point that we too would make stellar achievements. Notably, Buffet once said, The stock market is a device for transferring money from the impatient to the patient. The secret is to be patient. On this example, many fairness investors could relate to the Oracle of Omaha properly, as they invested on this biggest vehicle tyre and rubber merchandise maker that did phenomenally well. We are speakme approximately MRF, of course and sure, persistence was the important thing.
This inventory's charge may be very special because the degrees it has touched, no no other has controlled to do. Even Sensex has now not managed to attain this kind of growth.
Madras Rubber Manufacturing unit(MRF) constrained commonly known as MRF embarked on its adventure on stock exchanges on September 18, 1996, and in view that then its has touched new milestones and have become the most high-priced inventory at the indexes.
The organization has grew to become out to biggest producer of tyres in India and has also improved it foothold in companies like rubber merchandise consisting of tyres, treads, tubes and conveyor belts, paints and toys.
heres why MRF is one in all the biggest wealth introduction memories of all of them.
MRFs dating with exchanges came over decades - in advance buying and selling in the agency, before demat account got here into lifestyles in 1996, turned into within the form of bodily certificate.
Later Sebi allowed conversion of physical stocks to demat form by way of beginning a recipient account with a depository participant, in case they do now not have a demat account.
As such, many investors have been with MRF for quite a long term now and they have been availing the advantages thereof.
MRF, on BSE, has been indexed from 2001, and so the contrast of its overall performance could be completed taking the ones numbers.
MRF is the maximum expensive stock on the benchmark and even outruns many indexes consisting of Sensex. the amount of returns this business enterprise has given is breathtaking.
The percentage charge of MRF which become buying and selling at Rs 483 per piece on September 03, 2001, has in April 30, 2018 touched a massive excessive of Rs 81,423 per piece on BSE. This blockbuster performance way in 18 years MRF has grown by using a whopping Rs 80,940 according to percentage or 16,757.76% or 168.58 times on stock exchanges.
Even Sensex has not managed to reach this level, the benchmark become at 3,227.12 at the same day, and in 18 years it has touched a high of 36,443.98 - which means that advantage of 1029.30% or 11.29 times. In remaining one year, the percentage price of MRF has surged with the aid of Rs 14,377.80 or 21.44%. When MRF touched new excessive, there have been few buyers who made massive money. A viewer of Zee commercial enterprise referred to as in the course of market hours to get experts' opinion on what he must do with the stock. The viewer, Ravi, stated that his grandfather had offered 20,000 stocks of MRF inside the year 1990 and has applicable physical certificate as evidence. certainly placed, his grandfather's funding in MRF is now worth Rs 130 crore! whilst the closing date for demat account has passed away, the viewer nevertheless has the choice to promote out the physical MRF shares after dematerialisating them. MRF therefore is the most valued inventory on exchanges. however, with heavy valuation comes heavy chance due to the fact now not all can have enough money to buy this proportion at this charge. additionally, you want to invite the query, in case you need to spend money on MRF, approximately how a whole lot higher can the stock upward thrust going forward. well, here are two views that you can look at. Nishit Jalan and Hitesh Goel studies Analysts at Kotak Securities said, MRF has taken 1.5-2.5% price increases across segments (barring two-wheelers) over the past two months, which should help sustain EBITDA margin at 18-19% going ahead. Even as we like MRFs strong execution track-record and brand-positioning, we believe that the stock is trading at fair valuation at this juncture. Downgrade to REDUCE (from ADD) with an unchanged TP of Rs 77,000." On the other hand, Vijay Sarthy and Mayank Agarwal research Analysts at Anand Rathi said, With the expected buoyancy in two-wheeler and truck tyres, we are positive on MRF. Competition is intensifying adding to market-share pressure for the second and third players in two-wheeler tyres. We believe that MRF, with its strong brand, would further gain market share in two-wheeler replacements. We maintain our Buy rating. The duo added, On the strong volume growth, we expect revenue over FY18-20 to clock a 14% CAGR to Rs 192 billion and earnings to grow from Rs 10.9 billion in FY18 to Rs 22 billion in FY20. For this reason, the duo at Anand has set a goal rate of Rs 83,464 in keeping with piece (16x FY20e EPS) on MRF. If we examine it with modern high, MRF has ability to develop further via 3%.
How Jhunjhunwala Grilled The Top Brass Of His Favourite Bet Titan
May 18, 2018 | 12:36 PM IST
Ace capitalist Rakesh Jhunjhunwala recently grilled the highest management of Titan NSE 0.57 is corporate at a call following its March quarter earnings.
The Tata Group firm reported 70.86% jump in consolidated benefit at Rs 304.41 crore for the quarter concluded March 31 against Rs 178.16 crore announce for an equivalent quarter of 2016-17. Jhunjhunwalas additive holdings in Titan within the name of Jhunjhunwala Rakesh Radheyshyam, Rakesh Jhunjhunwala and Jhunjhunwala Rekha Rakesh stood at 8.46% as of March 31, 2018. At a conference call post Q4, Jhunjhunwala wanted clarity on bonus and gratuity that Titan provides to its staff. Is the bonus that you provide one-time? The gratuity to employees is one-time, I understand. Where is the dividend in respective businesses? he asked. The management representatives replied that the bonus is finished one-time and it depends on work and it's practice, not a policy. It is not part of the CTC. When we perform way above our own internal plans, this is something which is shared with the employees. From that perspective, it is a one-time for the quarter. It does not get amortised over the years. It is given at the end of the year, the Titan top brass clarified. During the quarter, the company created provisions for impairment for a Rs 75 crore investments it had created in Favre Leuba. It absolutely was triggered by slower-than-expected takeoff. Jhunjhunwala any asked what quantity the corporate proposes to write down off within the coming back quarters. We do not expect to write off any further, but we have just been conservative in our accounting, said Bhaskar Bhat, Managing Director. He said the company would still invest for 5 years. Jhunjhunwala was also keen to see the companys investment, write off and business plans. On investment plans, Bhat said the magnitude was of Rs 200 crore. When we see the business model working, only then shall we take a decision to make larger investments, Bhat said. Out of the planned investment, the company has already spend Rs 145 crore. It will spend another Rs 55 crore and then take a decision whether to invest further or not. Titan saw a visit margin within the watch business to 8% in Q4FY18 from 15.50% in Q3FY18. the corporate processed to Jhunjhunwala that this was owing to exceptional issue owing to a stockists. We took back stocks from RS, because we are consolidating them into other RS. We did not sell to them and, therefore, there was a drop in sales, CFO S Subramaniam said. On a year-to-date basis, share worth of Titan has rallied 9% to Rs 931 as to May 16 from Rs 853.60 on January 1.
Lupin Tells Rakesh Jhunjhunwala In An Interaction
May 17, 2018 | 11:34 AM IST
The management of Lupin believes the worst is also over on drug evaluation pressures within the US, the corporate told investors in associate degree interaction when reportage its quarterly earnings.
Indias second-largest drug maker on Tuesday denote an enormous overall loss of Rs 783.5 large integer within the fourth quarter terminated March because of a one-time losses provision on created on sure intangible assets associated with the Gavis acquisition within the US. Ace capitalist Rakesh Jhunhjhunwala, UN agency holds 1.92% stake in Lupin, was among those that quizzed the management on pricing pressure. "I will not say that value erosion is gone however i am going to say that days of double-digit value erosion, we have a tendency to hope, area unit behind US, Vinta Gupta, corporate executive of Lupin, same throughout the speak. Increasing competition and a consolidating client base are symptom profits at drug manufacturers activity to the US, the worlds largest attention market. So much that several big companies, like Teva and Novartis, area unit even considering swing their generics business on the block. "Companies have started getting out of portfolios that don't make sense, she told Jhunjhunwala throughout the decision. Additionally, she same that customers were additionally accommodative of the very fact that the trade has reached a pain purpose and other that balance has to shift. We are addressing pockets of our portfolio where we have pressures and are working with our channel partners, our customers to see how we can work together to ensure sustainable supply, she added. The company reported a net profits of Rs 383.6 crore in the fourth quarter.while revenues at Rs 3,952 crore. A Reuters poll of analysts calculable profits to Rs 323.8 large integer within the fourth quarter, whereas revenues at Rs 3,952 crore. The company took associate degree upset of 1464.3 crore on Gavis. Excluding one-time losses provision, the total profit of Lupin stood at Rs 358.6 crore, beyond analyst estimates.