porinju veliyath

's

Portfolio

| | |
| --- | --- |
| Gain | 1.3196 |
| Vs.Nifty | 131.96% |
| Success | 78.9500% |
| Strategy | MultiBagger |
About Me: Porinju Veliyath is India's finest stock picker. Similar to Rakesh Jhunjhunwala, Porinju Veliyath enjoys enormous following amongst the investor community. His trades are closely scrutinised and talked about. For years, Veliyath is been creating wealth for his clients and himself, but he began his journey on a humble note. Born in a middle-class... Read More>>
About Me: Porinju Veliyath is India's finest stock picker. Similar to Rakesh Jhunjhunwala, Porinju Veliyath enjoys enormous following amongst the investor community. His trades are closely scrutinised and talked about. For years, Veliyath is been creating wealth for his clients and himself, but he began his journey on a humble note. Born in a middle-class family in Cochin, Veliyath's is a perfect rag to riches story, peppered with dramatic ups and downs. Working his way through various low-paying jobs, in 1990, Veliyath landed a job in Kotak securities in Mumbai. This is where he honed his trading and investing skills. After starting on his own, his first breakthrough was Geojit Financial Services. He picked up 8% of the company's share. The company's valuation at that time was mere 2.5 crores, and the stock was trading in single digit. No wonder he was widely criticised for his audacious buy. However, Mr Veliyath had the last laugh as the stock multiplied its value in few years and brought him a load of fortune. Since then he has delivered many such masterstrokes.In our endeavour to bring you the up-to-date information of Porinju Veliyath's portfolio, we have captured all his trades from the hybrid sources and have compiled a consolidated portfolio here. We aim to keep updating Porinju Veliyath's latest buys and sells as and when they happen. << Hide
Porinju Veliyanath: Business Dynamics Are Changing, Be Careful In Stock Picking
Jun 25, 2018 | 11:47 AM IST
Indian equity marketplace is not in any respect within the undergo segment and the latest correction is an opportunity for inventory selecting, says Porinju Veliyath, Founder & CEO of equity Intelligence. He became addressing an traders event in Kochi.
He stated the ongoing correction in midcap and smallcap shares is pretty regular and the market had witnessed it in many instances in advance also. The BSE Midcap and Smallcap indices are down up to 14 per cent on a year-to-date basis till June 22. Porinju stated India can grow to be $5 trillion financial system over next 5 years. there is a want for political events or politicians to come back collectively to support the system of reforms the way they're now joining palms to defeat prime Minister Narendra Modi. India does not belong to Narendra Modi or anybody. We need very credible and capable leaders supported by all political parties. We will see exciting growth ahead if we can have such a situation, Porinju said. Uncertainty and excessive valuation triggered the latest correction within the market. The latest volatility in midcap and smallcap stocks isn't always related to global cues, he said. Porinju counseled buyers to recognition on the enterprise fashions of groups earlier than they select a inventory. Many companies and businesses, which were blue chips in last 50 years, have all of a sudden become irrelevant. We are going through that phase. Many companies are going to die. Companies do die, but this is something very unusual. Comoanies are going out of business in mass numbers, especially in the midcap and smallcap segments. We have to be extremely careful in stock picking, Porinju said. Value investing on the whole is awareness and common experience and buyers have to learn lessons from the sorts of falls that the market has witnessed within the recent past. Value investing usually is expertise and common experience and buyers ought to study instructions from the sorts of falls that the market has witnessed within the recent past. It is an ever-learning process. Once you feel okay I have been making so much money in last five years, at 45.2 per cent CAGR, then it is something waiting for you, said Porinju. In case you want to participate in Indias increase in a safe manner, buyers shoukd choose up those blue chips that could supply confident sort of increase going ahead, he stated.
The Worst Mistakes Made By Porinju Veliyath's Ambit Capital
Jun 13, 2018 | 02:47 PM IST
Admitting its blunders in the last 12 months, research and brokerage firm Ambit Capital has come out with a latest report which includes names such as Radhakrishnan Damani-led Avenue Supermarts, Jubilant Foodworks and Bajaj Finance.
Shares of Avenue Supermarts, which runs the D-Mart chain closed at Rs 1,606.1, up by more than 0.7% this afternoon. Admitting its bloopers in the last 12 months, research and brokerage firm Ambit Capital has come out with a latest report which includes names such as Radhakrishnan Damani-led Avenue Supermarts, Jubilant Foodworks and Bajaj Finance. Notably, the firm had a sell call on the shares of D-Mart. The shares crossed the Rs 1 lakh crore market capitalisation yesterday, multiplying investor wealth by more than 5 times in the last 15 months. D-Mart and the missed bus to Indias best grocery retailer: Despite the best pre-IPO research (management said so too!), we initiated with a SELL; the stock is up 35 per cent since then, Ambit Capital said in the note. Shares of Avenue Supermarts, which runs the D-Mart chain closed at Rs 1,606.1, up by more than 0.7% this afternoon. Apart from D-Mart prominent stocks such as Bajaj Finance and Jubilant Foodworks also form part of the list. Bajaj Finance and our refusal to learn: It has delivered a 4-year CAGR (compounded annual growth rate) of 70 percent; were sellers throughout. Growth at the cost of asset quality thesis is yet to play out, said the firm. Notably, Bajaj Finance shares have risen by more than 150% in the last one year, and closed at Rs 2,263 on BSE this afternoon. Another stellar performer in the last 12 months has been Jubilant Foodworks- India exclusive franchisee of Dominos Pizza. Jubilant Foodworks and the lowest target price on the street: Stellar same store growth (SSG) growth and margin expansion. The stock gained 175% in 12 months. Confession: It is the best performing stock in our coverage, Ambit Capital said in the release. The firm has got many buy calls wrong too. Featuring in the list of buys gone wrong are the shares of Tata Power, VA Tech Wabag and PI Industries. VA Tech Wabag, DB Corp and Greaves Cotton: Stocks that we love that no one else cares about. Each is down more than 20%, Ambit Capital said in the note. Notably, ace investor Porinju Veliyath had recently pointed out that Va Tech Wabag looks attractive.
Mayhem In Midcap, Smallcap Shares Can Also Continue Says Harsha Upadhyaya
May 23, 2018 | 11:02 AM IST
Harsha Upadhyaya of Kotak AMC says that midcap and smallcap stock may want to see a steep correction going forward. In keeping with the professional, valuations stay expanded in the overall stock marketplace.
We think at least in large caps, it would be more of a timewise correction, Harsha Upadhyaya stated. At the same time as the steep correction seen in small and midcap shares has taken even some pinnacle marketplace voices through surprise together with ace investor Porinju Veliyath, Kotak AMCs Harsha Upadhyaya says that the space ought to see greater correction. In an interview to ET Now, Harsha Upadhyaya stated that given the sizable outperformance of small and midcap shares in 2017, the gap was bound to remain volatile within the current year. looking at that the stock markets universal are buying and selling above the ancient stages, he said that a time wise or a price clever correction should show up in massive cap stocks. We think at least in large caps, it would be more of a timewise correction. It has already happened for last two-three quarters and could continue for some more quarters. But in mid and small caps, where you do not get comfort of earnings growth if the valuations are high, than those stocks can really correct very sharply, he informed the channel. Extensively, the cost erosion visible inside the current calendar year has baffled even investor Porinju Veliyath. We are going through a underperformance in PMS since January this year. An unusual sell-off in mid and small cap stocks is going on leading to irrational pricing of many of our portfolio stocks, ace investor CEO of equity Intelligence, Porinju Veliyath wrote in a letter to buyers last week. To be very frank, Im a little baffled this time looking at the extent of erosion in portfolio value in such a short period, he delivered. however, he expects a substantial get better in price stocks. We will do some re-structuring, as required in a more rational market, he wrote in the note. Consistent with Upadhyaya, the intake subject matter is slated to witness strong boom. Growth continues to be very strong for most of the consumption elements whether it is discretionary or non-discretionary. Our results are also in line with expectation in most of the cases but the worry there is of the valuations because this is one pocket where earnings have been steady for last couple of years and hence more money has gone into this particular pocket, he noted, he noted, adding that consumption is one area where the latest quarterly effects had been either in line or slightly better than expectancies and a number of the retail personal area banks have additionally been accurate in phrases of income increase. Get stay inventory prices from BSE and NSE and modern-day NAV, portfolio of Mutual price range, calculate your tax by using earnings Tax Calculator, understand marketplaces top Gainers, pinnacle Losers & fine fairness finances.
80% BSE Shares Are Bleeding, 25 Have Simply Doubled Investor Cash
May 22, 2018 | 05:02 PM IST
The pace of wealth creation has slowed down on Dalal street this calendar. Fund managers and traders are at a loss for words that almost 80 % of the liquid companies on BSE have destroy investor wealth seeing that January this year.
Overall marketplace capitalisation of the BSE-indexed companies has plunged by using over Rs 6 lakh crore to Rs a 145.62 lakh crore as of can also 21 May from Rs 151.74 lakh crore in December final 12 months. Second-rung shares have underperformed the largecaps so far this 12 months, with the BSE Midcap and Smallcap indices falling 12 % each towards 2.38 % consistent with cent upward thrust within the BSE Sensex among January 1 and May 21. But whilst the complete market is looking like an ocean of purple, little-acknowledged shares together with Sadhana Nitro Chem, Bullish Bonds and Holdings, RMG Alloy steel, GSS Infotech, Shukra prescription drugs and Mega business enterprise have rallied between 200 in line with cent and 355 % on the grounds that the start of the year. A number of these shares have even doubled investor wealth in just five months. They blanketed Fairdeal Filaments, Laurel Organics, Excel Industries, Maha Rashtra Apex employer, Navkar Builders NSE 0.00 %, Gorani Industries, Coastal employer, Lime chemical compounds, Indiabulls incorporated offerings, Ashari corporations, Sinner strength, innovative Castings, Capital India Finance. Shares of Swaraj automotive, Chokhani Securities, Zenith Exports, Satia Industries, Dolat Investments and Econo change have rallied between 150 in keeping with cent and 195 in keeping with cent in this era. But here is a disclaimer: those shares are being stated best for information purposes. seek advice from your monetary guide earlier than taking a choice to buy or sell any of these based on such brief-time period overall performance. Even marketplace veterans are cautious at the moment. Harsha Upadhyaya, CIO of fairness, Kotak Mutual Fund stated it is time to remain careful, because given the various macro headwinds, the marketplace has no longer honestly given up those valuation degrees; thats in particular actual of largecaps. The midcaps are nonetheless trading at a premium to their largecap friends. A falling rupee, accelerated crude oil fees and sustained overseas fund outflows had been haunting the home fairness market over the last few months. Crude costs ultimate week hit the $80 mark for the primary time on account that November 2017. Portfolio management offerings, which in large part financial institution on smallcap shares to supply superior returns, have also been feeling the warmth of the current marketplace correction. Porinju Veliyath, founding father of Kochi-based totally fairness Intelligence, who aggressively bets on smallcaps or microcaps, wrote in a current letter to his clients that he become baffled with the aid of the quantity of abrasion in portfolio value inside a totally short duration. We have nothing much to do right now in a market, which absolutely lacks buying interest, but wait patiently, Veliyath stated in his letter, addressing the underperformance of the PMS since January this year. With as much as 93 % fall, shares of Gitanjali Gems, Vakrangee NSE -4.90 %, Talwalkars better price fitness, Bombay Rayon, Reliance Naval, Orient Paper, Jaypee Infratech and Jyoti systems had been amongst the largest wealth destroyers to this point this calendar. This year goes to be risky, says Nischal Maheshwari, Head of Institutional Equities, Edelweiss Securities. Global factors are becoming much more powerful than the domestic ones and we have seen the dollar strengthen and all emerging market currencies have come off. Yield of 10-year US bonds have gone up to 3.1 per cent and it looks like they are still set for three to four rate hikes this year,the informed ET Now in a talk. An increasing number of international locations, like Indonesia, have extended hobby rates nowadays. Maheshwari stated the same goes to show up in India quickly. In this kind of a scenario, the stock market would be volatile and may see a bigger correction, he said.
The Meltdown Of Midcaps Has Singed Porinju Veliyath's Portfolio In May 2018
May 18, 2018 | 02:58 PM IST
So far this calender, midcap indices have fallen 8-10%, compared to a 3-5 % rise within the Nifty and Sensex. Caught off guard by the steep fall in middle cap shares, ace capitalist Porinju Veliyath in an exceedingly letter to his purchasers has asked them to wait patiently until a portfolio fit out was doable. We have nothing much to do right now, in a market environment which absolutely lacks buying interest, but wait patiently," wrote Porinju, Equity Intelligences founder and corporate executive. "We would do some restructuring as required at an appropriate time, in a more rational market. I expect significant bounceback in many of our value stocks going forward, the letter same. So far this Calender, Midcap indices have fallen 8-10 %, compared to a 3-5% rise within the Nifty and Sensex. In 2017, Midcap indices had up around 51%, compared to a 29% rise within the Sensex and keen. Rising Crude oil costs, a weak rupee and political uncertainty have aggravated considerations investors were already having regarding overpriced valuations. Quarterly performances of most companies Large cap and Midcap were nothing out of the standard. To be very frank, I am a little baffled this time looking at the extent of erosion of portfolio value in such a short period. However, I feel comfortable looking at the values of what we own rather than the prices what we see today, Porinju wrote. An unusual selloff in mid- and small-caps is going on, leading to the irrational pricing of many of our portfolio stocks. We have traditionally invested in midcaps during the last 15 years and have outperformed the indices significantly over the years despite such pockets of underperformance, he wrote within the letter.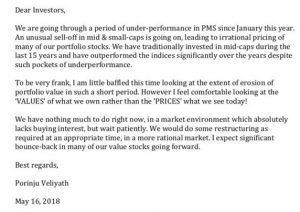 Numbers Speak A look at Porinju and Equity Intelligences portfolio for the March quarter reveals that majority of stocks, within which they hold quite 1% ownership, square measure down for the calendar thus far, information from AceEquity has disclosed. The stocks mentioned below might not be reflective of his entire portfolio as there can be alternative stocks that have holdings not up to 1%, that doesn't need public disclosures. Barring BCL Industries, that is commercialism around simply a percent(%) higher, remainder of the 10 stocks within the portfolios have fallen between 24-44%. Cimmco has fallen the foremost, followed by Emkay world, Palash Securities, Raunaq EPC International and genus Sarda plyboard, among others
Porinju Veliyath Calls It An Instant Of Comeback For Midcap
May 16, 2018 | 02:26 PM IST
Experts mostly believe that the simply wanting majority mark up to now is sweet for the market.
The Bharatiya Janata Party (BJP) was seen leading in many seats in province, leading in over 100 seats out of the 222 seats that visited polls last week. Experts mostly believe that the simply wanting majority mark up to now is sweet for the market. whereas some believed it may guarantee a powerful foundation for 2019, differents predicted that the road may come back to to special in earnings and other macros. Market veteran Porinju Veliyath sees this as a huge boost for the market and sees this as a chance for little and midcaps to visualize a bounceback.
A BJP-led government in province would prove a significant boost for Modi prior the 2019 elections, silencing critics WHO predicated his quality had light over the rocky adoption of a nationwide interrupt tax and a fast ban on high-value notes late in 2016. Here could be a verify what different consultants ar voice communication concerning the trends.
Amar Ambani, Partner & Head of analysis, IIFL Investment Managers:
"This will go extremely well with the stock market, as it will anticipate the BJP forming the government on its own, possibly with the help of independent candidatesimportantly, BJPs huge tally will mean, it will hold all key ministries, which would have been shared, in case a strong partner was to ally with them. This ensures tighter control on the state. The verdict will be seen as a big sentimental positive for the indices, which were factoring in a severely fractured mandate."
VK Sharma, Head personal shopper cluster & Capital Market Strategy at HDFC Securities:
"Going by the trends and the leads so far, with BJP emerging as a the single largest party , markets are relieved. Even if the Congress forms the government with the help of the JDS, the markets wont be perturbed. The markets will now start looking at the international commodity prices and the movement of the Dow. Early monsoon arrival forecast augurs well for the markets."
VK Vijayakumar, Chief Investment strategian at Geojit.
"If BJP suceeds in gaining simple majority that will be a major morale boost for the ruling party and very positive for the markets. It is clear from early trends that BJP is making good gains at the expense of congress. If this trend continues the markets will gain further strength. But the upside will be capped because there are some major headwinds in the form of high crude prices.
The middle east situation has turned very volatile following the killing of 55 Palestinian yesterday. The crude is likely to remain high or even go up. This will impact India's CAD which might touch 2.4% of India's GDP. Inflation will inch up and the RBI is likely to turn hawkish for June's monetary policy. These headwinds will cap the upside to the markets. The reaction to the election result will be short-term and the economic trends will dictate the direction of the market going forward."