rakesh jhunjhunwala

's

Portfolio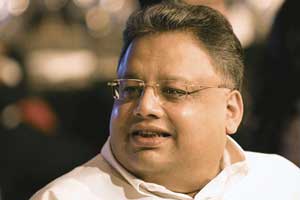 | | |
| --- | --- |
| Gain | 0.9363 |
| Vs.Nifty | 68.79% |
| Success | 78.0000% |
| Strategy | MultiBagger |
About Me: Rakesh Jhunjhunwala's name is a synonym to stock investment. Such is the credibility of Rakesh Jhunjhunwala that his one word, sometimes even a hint, can turn the market upside down. There is a reason why investors swear by his "look before you leap" philosophy. Let's shed some light on the remarkable success story of the big bull of Dalal... Read More>>
About Me: Rakesh Jhunjhunwala's name is a synonym to stock investment. Such is the credibility of Rakesh Jhunjhunwala that his one word, sometimes even a hint, can turn the market upside down. There is a reason why investors swear by his "look before you leap" philosophy. Let's shed some light on the remarkable success story of the big bull of Dalal Street. A journey that started with Rs 5,000 and has reached whopping 13,000 crores! Yes, he's an investment wizard all right. Rakesh Jhunjhunwala's holdings consist of stocks cherry-picked purely on the basis of fundamental analysis and value investing strategies. Rakesh Jhunjhunwala's holdings are the perfect ambassador of his belief in long-term investment and value investing. His portfolio includes low priced and mostly small-cap and mid-cap stocks. His genius lies in finding stocks from the scrap by recognising their long-term investment potential. Over the years, he has identified many gems which have given him multibagger growth. For his knack of picking winners, he is often called Warren Buffett of India. There are uncanny similarities between these two master investors. Both hold their investments for a considerably long period and have built their wealth by banking on undervalued stocks. From Sesa Goa to Lupin Jhunjhunwala has an array of stocks which became the 'favourite' stocks of the market long after Jhunjhunwala spotted them. Being an HNI investor, he doesn't enjoy a lot of privacy in his investing as whatever moves he makes become the headlines of the major financial newspapers, channels and portals. In our endeavour to bring you the up-to-date information of Jhunjhunwala's portfolio, we have captured all his trades from the hybrid sources and have compiled a consolidated portfolio here. We aim to keep updating Rakesh Jhunjhunwala's latest buys and sells as and when they happen and also keep a tab on Rakesh Jhunjhunwala latest picks and tips. << Hide
| | |
| --- | --- |
| Positions by sector | Gain distribution by sector |
3 Listed Firms In Top 100 Luxury Brands List; Rakesh Jhunjhunwala Owns One
May 23, 2018 | 05:24 PM IST
Rakesh Jhunjhunwala owns over 8 % stock in Titan. Main part of his portfolio is invested in the company, which is considered his favored stock.
Consulting company Deloitte blanketed 3 listed Indian corporations and unlisted in its latest report on luxury brands. The file named "Global Powers of Luxury Goods 2018" counted Titan agency (ranked 28th), Kalyan Jewellers India (37th), computer Jeweller (43th), Joyalukkas India (49th), and Tribhovandas Bhimji Zaveri (89th) among one hundred biggest luxury goods agencies within the world. Amongst these five, Titan, pc Jeweller and Tribhovandas Bhimji Zaveri are indexed on BSE and NSE, and feature given mixed returns inside the last one year. Titan is up 92 % to Rs 917, PC Jeweller is down 10 % to Rs 198.65, while TBZ gained simply 9 % to Rs 95 in the last year. Ace investor Rakesh Jhunjhunwala owns over 8 % stake in Titan. Principal part of his portfolio is invested within the corporation, that is considered his favourite stock. In the March area, the Tata institution company said 70.86 per cent jump in consolidated net earnings at Rs 304.41 crore. Brokerage Edelweiss Securities has a buy rating at the inventory with a goal rate of Rs 1,160. "We envisage Titan to extend its growth run led by share gains, entry in new segments and retail expansion. Moreover, rising share of studded jewellery, cost optimisation and operating leverage are likely to aid margin. At 55x FY20E EPS, we arrive at TP of Rs 1,160. Maintain BUY/SO. At CMP, the stock is trading at 46.7x FY20E EPS," Edelweiss said in a results review report. PC Jeweller share price, meanwhile, witnessed a roller-coaster trip on Dalal road as rumours of promoters selling their stake within the company surfaced. The company is scheduled to file its March quarter numbers on Friday. The stock received 10 % to hit its intraday high of Rs 210 in today's exchange. Within the March quarter, TBZ said 9.6 in step with cent SSG and Rs 7.04 crore PAT led via almost 10 per cent extent increase and stepped forward footfall in wedding season. TBZ management made a forecast of opening 15 store in FY19 which includes 10 owned stores, indicating reasonable level of success with final 4 year stores in Malls. "Although the move is positive, we remain cautious as target of adding 30 stores in next two years (base of 37 stores) need support from good demand scenario. TBZ is back on the dividend list (7.5%) after a gap of 2 years, which shows management confidence in growth and sustaining cash flows. Balance sheet remains healthy with flat inventories and just 4 per cent increase in debt. We estimate 37 per cent PAT CAGR over FY18-20 and value the stock at 20xFY20 EPS of Rs 6, thus assigning target price of Rs 120. Retain Accumulate," said Prabhudas Lilladher in a research report. Meanwhile, commenting on the Indian luxurious items region a Deloitte India spokesperson said: "India is currently undergoing a rapid digital transformation, whilst battling the challenges of high import duties, introduction of GST and unstable price parity. However, with a positive economic outlook, the demand for luxury goods segment is poised to rise in 2018." As consistent with the Deloitte Report, the worlds top 100 biggest luxurious items agencies generated income of $217 billion in financial year 2016 and the common luxury goods annual sales for top 100 companies is now $2.2 billion.
Street Symptoms: Jhunjhunwala Shares, Analysts Bullish On MPS And Extra
May 22, 2018 | 04:08 PM IST
Chief govt officer Sundeep Sikka has been shopping for shares of Reliance Nippon life Asset management (RNAM) from the open marketplace amid weak point within the asset supervisor's inventory fee.
Key Jhunjhunwala shares see sell-off Aptech and Escorts, key stocks in billionaire investor Rakesh Jhunjhunwalas portfolio, got here beneath heavy selling strain ultimate week. stocks of Aptech dropped eight according to cent, and people of Escorts declined seven in line with cent on Friday. Jhunjhunwala holds more than 12.6 % stake in Aptech and 9.2 per cent in Escorts. Except these stocks, different key holdings of Jhunjhunwalas which includes Lupin, Crisil, Tata cars and Aurobindo Pharma have also come below promoting pressure in recent months. Samie Modak Analysts bullish on .
Rakesh Jhunjhunwala's Stock Grew By 16,185% In 18 Years
May 22, 2018 | 03:24 PM IST
This stock's price may be very unique because the degrees it has touched, no no other has managed to do. Even Sensex has no longer controlled to obtain this type of growth.
Markets are supposed to make headlines. After they contact new milestones whilst performances are buoyant they get talked about lots and unfold cheer and after they do not, they nevertheless entice all the attention-balls but the feelings are reversed. Equal for stocks. But, indices or stocks, very few emerge as making records. This one that we're talking about, in reality did. when we talk of the top notch individuals inside the markets who've completed incredibly nicely, for India it's Rakesh Jhunjhunwala and for the arena it's miles Warren Buffet. every body ought to take the classes those legends engendered to coronary heart and hope at some point that we too would make stellar achievements. Notably, Buffet once said, The stock market is a device for transferring money from the impatient to the patient. The secret is to be patient. On this example, many fairness investors could relate to the Oracle of Omaha properly, as they invested on this biggest vehicle tyre and rubber merchandise maker that did phenomenally well. We are speakme approximately MRF, of course and sure, persistence was the important thing.
This inventory's charge may be very special because the degrees it has touched, no no other has controlled to do. Even Sensex has now not managed to attain this kind of growth.
Madras Rubber Manufacturing unit(MRF) constrained commonly known as MRF embarked on its adventure on stock exchanges on September 18, 1996, and in view that then its has touched new milestones and have become the most high-priced inventory at the indexes.
The organization has grew to become out to biggest producer of tyres in India and has also improved it foothold in companies like rubber merchandise consisting of tyres, treads, tubes and conveyor belts, paints and toys.
heres why MRF is one in all the biggest wealth introduction memories of all of them.
MRFs dating with exchanges came over decades - in advance buying and selling in the agency, before demat account got here into lifestyles in 1996, turned into within the form of bodily certificate.
Later Sebi allowed conversion of physical stocks to demat form by way of beginning a recipient account with a depository participant, in case they do now not have a demat account.
As such, many investors have been with MRF for quite a long term now and they have been availing the advantages thereof.
MRF, on BSE, has been indexed from 2001, and so the contrast of its overall performance could be completed taking the ones numbers.
MRF is the maximum expensive stock on the benchmark and even outruns many indexes consisting of Sensex. the amount of returns this business enterprise has given is breathtaking.
The percentage charge of MRF which become buying and selling at Rs 483 per piece on September 03, 2001, has in April 30, 2018 touched a massive excessive of Rs 81,423 per piece on BSE. This blockbuster performance way in 18 years MRF has grown by using a whopping Rs 80,940 according to percentage or 16,757.76% or 168.58 times on stock exchanges.
Even Sensex has not managed to reach this level, the benchmark become at 3,227.12 at the same day, and in 18 years it has touched a high of 36,443.98 - which means that advantage of 1029.30% or 11.29 times. In remaining one year, the percentage price of MRF has surged with the aid of Rs 14,377.80 or 21.44%. When MRF touched new excessive, there have been few buyers who made massive money. A viewer of Zee commercial enterprise referred to as in the course of market hours to get experts' opinion on what he must do with the stock. The viewer, Ravi, stated that his grandfather had offered 20,000 stocks of MRF inside the year 1990 and has applicable physical certificate as evidence. certainly placed, his grandfather's funding in MRF is now worth Rs 130 crore! whilst the closing date for demat account has passed away, the viewer nevertheless has the choice to promote out the physical MRF shares after dematerialisating them. MRF therefore is the most valued inventory on exchanges. however, with heavy valuation comes heavy chance due to the fact now not all can have enough money to buy this proportion at this charge. additionally, you want to invite the query, in case you need to spend money on MRF, approximately how a whole lot higher can the stock upward thrust going forward. well, here are two views that you can look at. Nishit Jalan and Hitesh Goel studies Analysts at Kotak Securities said, MRF has taken 1.5-2.5% price increases across segments (barring two-wheelers) over the past two months, which should help sustain EBITDA margin at 18-19% going ahead. Even as we like MRFs strong execution track-record and brand-positioning, we believe that the stock is trading at fair valuation at this juncture. Downgrade to REDUCE (from ADD) with an unchanged TP of Rs 77,000." On the other hand, Vijay Sarthy and Mayank Agarwal research Analysts at Anand Rathi said, With the expected buoyancy in two-wheeler and truck tyres, we are positive on MRF. Competition is intensifying adding to market-share pressure for the second and third players in two-wheeler tyres. We believe that MRF, with its strong brand, would further gain market share in two-wheeler replacements. We maintain our Buy rating. The duo added, On the strong volume growth, we expect revenue over FY18-20 to clock a 14% CAGR to Rs 192 billion and earnings to grow from Rs 10.9 billion in FY18 to Rs 22 billion in FY20. For this reason, the duo at Anand has set a goal rate of Rs 83,464 in keeping with piece (16x FY20e EPS) on MRF. If we examine it with modern high, MRF has ability to develop further via 3%.
How Jhunjhunwala Grilled The Top Brass Of His Favourite Bet Titan
May 18, 2018 | 12:36 PM IST
Ace capitalist Rakesh Jhunjhunwala recently grilled the highest management of Titan NSE 0.57 is corporate at a call following its March quarter earnings.
The Tata Group firm reported 70.86% jump in consolidated benefit at Rs 304.41 crore for the quarter concluded March 31 against Rs 178.16 crore announce for an equivalent quarter of 2016-17. Jhunjhunwalas additive holdings in Titan within the name of Jhunjhunwala Rakesh Radheyshyam, Rakesh Jhunjhunwala and Jhunjhunwala Rekha Rakesh stood at 8.46% as of March 31, 2018. At a conference call post Q4, Jhunjhunwala wanted clarity on bonus and gratuity that Titan provides to its staff. Is the bonus that you provide one-time? The gratuity to employees is one-time, I understand. Where is the dividend in respective businesses? he asked. The management representatives replied that the bonus is finished one-time and it depends on work and it's practice, not a policy. It is not part of the CTC. When we perform way above our own internal plans, this is something which is shared with the employees. From that perspective, it is a one-time for the quarter. It does not get amortised over the years. It is given at the end of the year, the Titan top brass clarified. During the quarter, the company created provisions for impairment for a Rs 75 crore investments it had created in Favre Leuba. It absolutely was triggered by slower-than-expected takeoff. Jhunjhunwala any asked what quantity the corporate proposes to write down off within the coming back quarters. We do not expect to write off any further, but we have just been conservative in our accounting, said Bhaskar Bhat, Managing Director. He said the company would still invest for 5 years. Jhunjhunwala was also keen to see the companys investment, write off and business plans. On investment plans, Bhat said the magnitude was of Rs 200 crore. When we see the business model working, only then shall we take a decision to make larger investments, Bhat said. Out of the planned investment, the company has already spend Rs 145 crore. It will spend another Rs 55 crore and then take a decision whether to invest further or not. Titan saw a visit margin within the watch business to 8% in Q4FY18 from 15.50% in Q3FY18. the corporate processed to Jhunjhunwala that this was owing to exceptional issue owing to a stockists. We took back stocks from RS, because we are consolidating them into other RS. We did not sell to them and, therefore, there was a drop in sales, CFO S Subramaniam said. On a year-to-date basis, share worth of Titan has rallied 9% to Rs 931 as to May 16 from Rs 853.60 on January 1.
Lupin Tells Rakesh Jhunjhunwala In An Interaction
May 17, 2018 | 11:34 AM IST
The management of Lupin believes the worst is also over on drug evaluation pressures within the US, the corporate told investors in associate degree interaction when reportage its quarterly earnings.
Indias second-largest drug maker on Tuesday denote an enormous overall loss of Rs 783.5 large integer within the fourth quarter terminated March because of a one-time losses provision on created on sure intangible assets associated with the Gavis acquisition within the US. Ace capitalist Rakesh Jhunhjhunwala, UN agency holds 1.92% stake in Lupin, was among those that quizzed the management on pricing pressure. "I will not say that value erosion is gone however i am going to say that days of double-digit value erosion, we have a tendency to hope, area unit behind US, Vinta Gupta, corporate executive of Lupin, same throughout the speak. Increasing competition and a consolidating client base are symptom profits at drug manufacturers activity to the US, the worlds largest attention market. So much that several big companies, like Teva and Novartis, area unit even considering swing their generics business on the block. "Companies have started getting out of portfolios that don't make sense, she told Jhunjhunwala throughout the decision. Additionally, she same that customers were additionally accommodative of the very fact that the trade has reached a pain purpose and other that balance has to shift. We are addressing pockets of our portfolio where we have pressures and are working with our channel partners, our customers to see how we can work together to ensure sustainable supply, she added. The company reported a net profits of Rs 383.6 crore in the fourth quarter.while revenues at Rs 3,952 crore. A Reuters poll of analysts calculable profits to Rs 323.8 large integer within the fourth quarter, whereas revenues at Rs 3,952 crore. The company took associate degree upset of 1464.3 crore on Gavis. Excluding one-time losses provision, the total profit of Lupin stood at Rs 358.6 crore, beyond analyst estimates.
This Rakesh Jhunjhunwala Stock Jumps 20%
May 16, 2018 | 11:07 AM IST
The win of BJP has been completely accepted by investors such a lot in order that most stocks square measure work gains starting from 20% to 5% on the BSE.
Every exchange capitalist would be habitual to the name of Rakesh Jhunjhunwala, and just in case if you're new the universe of equities, he's referred to as the Badshah of Dalal Street. Among his several quotes on the investment methodology he has adopted in equity markets, the one that stands out goes like this, Invest during a business not an organisation. Jhunjhunwala any explains, Invest in corporations that have saturdy management and competitive advantage. This is often holding noticeably true nowadays jointly of high|the highest corporations he incorporates a giant holding has become a top entertainer in Indian markets nowadays.
Both Sensex and corking have rocketed over 350 and a 100 points today, which may be attributed to the Bharatiya Janata Party (BJP) win in Mysore elections - the BJP is leading in 118 constituencies, with Congress an overseas second at 60. this is often a dramatic comeback for the BJP, that may win simply 40 seats within the last assembly polls 5 years ago.
The win for the BJP has been completely accepted by investors such a lot in order that most of stocks are seeing gains ranging from 20% to 5% on BSE.
Guess what! Jhunjhunwalas holding, the Mandhana Retail Ventures restricted (TMRVL), surged by nearly 20% the very best gainer on stock exchanges in terms of share.
The company has touched associate degree intraday high of Rs 86.30 per piece on top of 19.94% compared to previous day value of Rs 71.95 per piece. However, at around 1227 hours, the share value of company was trading at Rs 84.05 per piece on BSE above Rs 12 or 16.68%.
Such performance comes as a vast recovery in Mandhanas share value. As from could 01 till May 14, the share value of the corporate has born by 30.58% on BSE.
Mandhana on weekday updated a listing strategic priority for its business.
In BSE filing Mandhana said, The company is following a multi-pronged strategy which concentrates on strengthening its business model while moving towards value retail by creating a strong pipeline of new products." Mandhanas license agreement with the Being Human Foundation holds valid till March 2020. The corporate enjoys a robust relation with the inspiration and is assured on the continuity of the agreement on the far side 2020.
The company is sharply operating towards making a 'core or basic line' of product that may be targeted towards the quick fashion, value-for-money deals within the mid-to-premium phase of branded apparels.
Mandhanas core management team is swing all of its efforts towards targeting an EBITDA margin of 15% - 16% going forward by up the out-sourcing practices. The corporate is additionally introducing numerous sales schemes and worker coaching courses so as to enhance the same-store-sales growth for FY19.
Following the on top of growth prospects of Mandhana, one will expect positive performance in coming back days ahead within the share value. The corporate incorporates a potential to the touch up to Rs 200 per piece on BSE. The last time it recorded high was Rs 203.70 per piece on could May 2017. According to reports, Jhunjhunwala has endowed in 21 corporations with a portfolio worth aggregating over Rs 14,500 crore. Most of those corporations have provide even higher returns than the benchmark indices may give over a amount of one year. Top holdings of Jhunjhunwala square measure - The Mandhana Retail Ventures restricted at 12.74%, Aptech restricted at 12.58%, Rallis Asian nation at 9.67%, Bilcare restricted at 8.48%, Titan at 8.46%, Autoline Industries at 8.34%, Escorts at 9.16%, Geojit money at 7.48% and Delta firm at 7.48%.
Mandhana additionally has Salman Khan related to the corporate since 2012, and thru Being Human on 22 September 2016, Mandhana Ind was demerged into Mandhana Ind & Mandhana Retail. Being Human is with Mandhana Retail.
Jhunjhunwala stands at 54th position in Forbes list of billionares with web price $3.2 billion. The Forebes describes Jhunjhunwala as India's Warren Buffett. He began investment in BSE in 1958 with simply $100. That time, BSE was valued at 150 and has currently earmarked over 36,443-height.
BJP Emerges Largest Party As Investors Cheer These 21 Tocks Jump Up To 20 %
May 16, 2018 | 10:51 AM IST
Karnataka Election results: BJP has emerged the biggest party and this boosted sentiment in markets - Sensex was up the maximum amount as 436 points, touching a high of 35,993.53 at one purpose.
In the last half of Tuesdays mercantilism session, the benchmark indices Sensex and Nifty 50 are mercantilism largely flat, however, shopping for sentiment extremely got an enormous boost today as a result of the doubtless outcome in state Elections. This states election was remained could 12, and results came in today that has indicated a success for the Bharatiya Janata Party (BJP) as they're currently leading in 108 seats, and Congress in 78 while JDS is leading in 38. This is often a dramatic comeback for the BJP, that might win simply 40 seats within the last assembly polls 5 years agone, however there's a catch - the party has not been ready to get an easy majority. This damaged the markets later within the day with the Sensex shedding the huge gains it created to finally finish within the red at 35,543.94, down by 12.77 pts! During the market hours, the chance of the BJP win was completely accepted by investors, so much so, that Sensex has gained by over 436 points and a high of 35,993.53 today. Even Nifty 50 saw increase of 122 points with a high of 10,929.20 throughout the day. With this blockbuster performance of benchmark indices, index like tiny cap, midcap and lots of additional saw sensible sentiments in their valuation from investors. Interestingly, there have been an inventory of 21 stocks from completely different sectors UN agency performed rather well throughout the mercantilism session. Lets have a glance at them. On the highest spot was Rakesh Jhunjhunwala holding, The Mandhana Retail Ventures that has surged by a Nifty 19.94 % today with associate degree intraday high of Rs 86.30 per piece. This company performed well today, as from May 1 till May 14, the corporate has tumbled by nearly 31 %. This was followed by stock worth of firms like Dr Lal Pathlabs with 15.44 % rise, BF Investment up 13.34 %, BF Utilities higher than 12.91 %, VMart higher by 11.81 % and BEML billowing by 10.71 %. Other firms that saw gains were - Suven Life (7.94%), Ducon Technologies (7.21%), Hitech firm (7.14%), metal Kashyap and Sons (7.31%), Dilip Buildcon (9.28%), Sanghi Industries (9.83%), Mphasis (6.69%), The Phoenix Mills (6.86%) and Jindal Saw (6.73%). Sanjeev Prasad, Anindya Bhowmik and Sunita Baldawa analysts at Kotak Institutional Equities aforesaid, A success for the BJP are received well by the market however a slim defeat won't dent the markets optimism relating to the BJPs probabilities within the general elections next year. The trio added, The market has pinned its hopes on earnings recovery and largely ignored the deterioration in the macro, which may weigh on heady multiples. Dhirendra Tiwari and Dipojjal Saha analysts at Antique Broking aforesaid, We note that (1) exit polls have a checked history, particularly in predicting outcomes of multi-party contests (e.g. UP in 2017) (2) A 80-100 vary seat by BJP is probably baked into expectations and so markets are agnostic to such an incident (3) A majority for BJP are an attempt within the arm for the markets and positive for risk-on sentiments- cyclicals, government agency and ten period of time yields. The pair explained, From a sector perspective, we continue to maintain that it will be a bottom-up market with no sweeping generalisations possible across sectors. We retain our positive bias for pvt retail banks and IT (given the sector is a good hedge against volatility).
Rakesh Jhunjhunwala's Asks Questions Federal Bank's Earnings Call
May 15, 2018 | 02:55 PM IST
Unimpressed with the numbers, Jhunjhunwala questioned the banks lower pre-provisioning profits and its lack of specialize in third-party retail merchandise.
Portfolio capitalist Rakesh Jhunjhunwala gave a troublesome time to Federal Bank chief Shyam Srinivasan on the earnings call when the banks profits fell sharply for the second quarter in an exceedingly row.
Net profit for the March quarter fell 44 percent year-on-year because of the new RBI guidelines on bad loan recognition requiring banks to make higher provisions.Within the Gregorian calendar month quarter, the banks profits had been hit owing to stress in its education loan book.
Unimpressed with the numbers, throughout the post-results investor/analyst invoke weekday, Jhunjhunwala questioned the banks lower pre-provisioning profits and its lack of specialize in third party retail merchandise that has generated smart revenues for a few of Federal Banks rivals.
The ace capitalist, UN agency is additionally the 54th richest Indian as per Forbes list of billionaires, holds 1.79 % in Federal Bank at the moment. Jhunjhunwala has reduced exposure to the stock within the past few months. He owned 2.18 % within the bank at the tip of June last year. The stock hit associate incomparable high of Rs 127 in Oct last year, however has since shed around 30% owing to the unsatisfying monetary performance. Addressing Jhunjhunwalas question, Srinivasan, UN agency is that the chief executive officer and MD of the Bank, conceded that margins (3.11 % from three.42 % a year ago) had compressed attributable to interest reversal on account of recognising some assets as NPAs and progressive prices on account of payment of gratuity and wages.
New business growth
In his characteristic drawl, Jhunjhunwala asked: What about retail products like selling mutual fund products, health insurance, life insurance, credit cards, which is where the banks are making the money, the good ones?
To that Srinivasan replied, Which is why we have recruited new people for the new areas we are venturing into and a full-fledged team will work on that.
Srinivasan additional assuaged capitalist issues by light the banks stressed assets pool falling to its lowest within the last 12 quarters. He aforementioned the bank can intrude on four new revenue accretive businesses, that it didn't step into earlier attributable to prudent measures. Federal Banks retail unsecured disposal book can create a phased entry into personal loans and connected merchandise beside disposal to industrial vehicles section.
On the corporate front also, we have recruited a person on the treasury side and a senior person to look at the government business. We are investing in the franchise as we have the platform now, he added.
Insurance stake sale uncertain?
Jhunjhunwala additionally expressed chafe on the bidding method of its stake in IDBI Federal insurance and therefore the quantum, that is on sale for the past few months.
It is in the very last stages, between two final bidders the negotiations are going on. In FY19, by July or August the full process will be consummated. We are waiting for the right price to arrive and decide on taking a callThey are bidding for 100 percent, Srinivasan aforementioned.
Still not happy, the large Bull ironed on, voice communication I have no ideaour bank has some or the other problem every quarter. Sometimes there is education loans, now it is RBI circular. Anyways, God bless! he all over his question session.
Srinivasan was fast to feature, We are a real business Rakesh.
This quarters performance are crucial for Federal Bank if it needs to retain Jhunjhunwala on its list of key shareholders.
Including Rakesh Jhunjhunwala, This 'Piece Of Jewel' Created Several Crorepatis
May 15, 2018 | 01:37 PM IST
Rakesh Jhunjhunwala favorite stock has up over 1350 % within the last 10 years on absolute basis. That said, Rs 10 lakh invested within the stock in 2008 has became Rs 1.45 crore currently.
Global brokerage CLSA calls it a 'piece of jewel'. For ace capitalist Rakesh Jhunjhunwala, it's a most-favourite stock. And why not! On absolute basis, the stock of this Tata Group firm has up over 1350 % within the last 10 years. That said, Rs 10 lakh invested within the stock in 2008 has became Rs 1.45 crore now.
The company last week according 70.86 % jump in consolidated net profit for the March quarter, following that CLSA revised target worth on the stock, maintaining 'outperform' rating.
The stock is none apart from Titan Company, strongest player in gems and jewelry section, consistent with specialists.
However, Titan share worth nowadays slipped over 1 % to Rs 935.15 on the BSE Monday's trade.
Avinash Gorakssakar, HoR, Joindre Capital suggested investors to shop for Titan on any dips, holding it for semipermanent. "Titan simply came out with strong set of numbers and management comment conjointly remained strong. We have a tendency to estimate FY19 earnings to come back in smart, and foreign investors conjointly like this stock," he said. Notable, the management steer clear off giving FY19 steerage, however it reiterated its commitment to grow jewelry revenues 2.5 times to Rs 500 bn within the next 5 years.
The company's Q4 earnings came in ahead of CLSA's expectations as its Q4 EBITDA rose 67 % YoY to Rs 4.6 billion, 15 % ahead of CLSA forecast.
"We stay positive on Titan, though straightforward cash has been created with a 100 % rally within the stock within the past 12 months. We have a tendency to upgrade EPS by 3-4 % and revise target to Rs 1,050 (50x Mar-20CL earnings)," CLSA aforementioned in a very results review report. As of March 31, 2018, promoters command 52.9 % stake in Titan, whereas foreign portfolio investors have 21.3 % stake within the company. Rakesh Jhunjhunwala beside his partner Rekha Jhunjhunwala bought 1,07,000 additional shares in Titan within the March quarter to lift their holding within the jewellery firm to 7.51 crore shares, or 8.46 % stake. It was 7.50 crore shares, or 8.45 % stake, at the tip of Gregorian calendar month quarter. The stock gained 14 % to date this year. Titan Company according 70.86 % jump in consolidated lucre at Rs 304.41 crore for the fourth quarter concluded March 31 against Rs 178.16 crore lucre within the same quarter of 2016-17. Titan's total financial gain stood at Rs 4,125.69 during Q4. It absolutely was Rs 3,692.82 crore within the year-ago amount.
For 2017-18 year, Titan according reported of Rs 1,101.91 crore compared with Rs 697.28 crore within the previous year. Its total financial gain within the year stood at Rs 16,244.81 crore as against Rs 13,452.62 crore in 2016-17.
Top Fortis Investors Move To Dislodge Board Members
May 15, 2018 | 12:24 PM IST
MUMBAI: feverish lobbying is below means by a number of the highest shareholders of Fortis healthcare to oust majority administrators of the incumbent board while the original bidder Manipal-TPG mix on Mon revised its asking price to Rs a 180 per share, 8% higher than the winner group of Munjal-Burman.
About 15 institutional shareholders control more than 60% of Fortis healthcare with most of them taking a footing against the board that consult the joint supply of Munjal-Burman. Several of them area unit orientating with either Malaysias IHH or Manipal-TPG with outstanding names like East Bridge Capital, Elliott Management and Rakesh Jhunjhunwala understood to be galvanising broader investor support. All eyes area unit currently on the might 22 shareholders meet which will select the fate of a minimum of 4 of the eight board members also as its recommendations.
East Bridge and Jupiter Asian nation realize, that along own 12-tone system, have enraptured a resolution to get rid of Harpal Singh (chairman old of Fortis Healthcare), Brian Tempest, Sabina Vaisoha and Tejinder Shergill. These four administrators were appointed by the companys former promoters, Shivinder and Malvinder Singh. Reacting to the resolution, the four administrators have same that restructuring the board at this juncture can add additional turbulence and ambiguity to the corporate.
Manipal-TPG revised its bid on Mon when it detected the negative reaction of Fortis Healthcares shareholders to the boards call of favouring the supply by Munjal-Burman. As a result, Manipal-TPGs revised supply currently values the troubled hospital chain at Rs Rs 9,403 crore. The directors who supported Munjal-Burmans bid area unit reported to possess gone against the money and legal advisers recommendations. the administrators who voted in favour of Munjal-Burman area unit same to be connected to the erstwhile promoters. Harpal Singh is Malvinder Singhs father-in-law, whereas Tejinder Singh and Sabina Vaisoha area unit recent friends of the promoters and Brian Tempest was the corporate executive of Ranbaxy, a pharmaceutical company company once in hand by the Singh brothers. The drawback for Fortis same that associate EGM has been known as by shareholders next week. The hindrance that IHH has over different bidders is the absence of time it needed to lead due tirelessness. Following Mondays revised supply by Manipal-TPG, the board might decision associate emergency meeting to think about the proposal. The board may additionally be forced to convene and permit it slow for due diligence to the 3 serious contenders in order that they might create final offers. this is often associate possibility that the board might cross-check to survive capitalist backlash. Sources same ace dealmaker Nimesh Kampani of JM money is helping Munjal-Burman to garner shareholders support for its offer.
In Mondays flat market, the Fortis stock on BSE closed nearly unchanged at Rs 149.