rakesh jhunjhunwala

's

Portfolio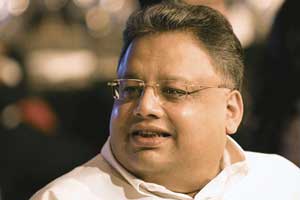 | | |
| --- | --- |
| Gain | 0.9363 |
| Vs.Nifty | 68.79% |
| Success | 78.0000% |
| Strategy | MultiBagger |
About Me: Rakesh Jhunjhunwala's name is a synonym to stock investment. Such is the credibility of Rakesh Jhunjhunwala that his one word, sometimes even a hint, can turn the market upside down. There is a reason why investors swear by his "look before you leap" philosophy. Let's shed some light on the remarkable success story of the big bull of Dalal... Read More>>
About Me: Rakesh Jhunjhunwala's name is a synonym to stock investment. Such is the credibility of Rakesh Jhunjhunwala that his one word, sometimes even a hint, can turn the market upside down. There is a reason why investors swear by his "look before you leap" philosophy. Let's shed some light on the remarkable success story of the big bull of Dalal Street. A journey that started with Rs 5,000 and has reached whopping 13,000 crores! Yes, he's an investment wizard all right. Rakesh Jhunjhunwala's holdings consist of stocks cherry-picked purely on the basis of fundamental analysis and value investing strategies. Rakesh Jhunjhunwala's holdings are the perfect ambassador of his belief in long-term investment and value investing. His portfolio includes low priced and mostly small-cap and mid-cap stocks. His genius lies in finding stocks from the scrap by recognising their long-term investment potential. Over the years, he has identified many gems which have given him multibagger growth. For his knack of picking winners, he is often called Warren Buffett of India. There are uncanny similarities between these two master investors. Both hold their investments for a considerably long period and have built their wealth by banking on undervalued stocks. From Sesa Goa to Lupin Jhunjhunwala has an array of stocks which became the 'favourite' stocks of the market long after Jhunjhunwala spotted them. Being an HNI investor, he doesn't enjoy a lot of privacy in his investing as whatever moves he makes become the headlines of the major financial newspapers, channels and portals. In our endeavour to bring you the up-to-date information of Jhunjhunwala's portfolio, we have captured all his trades from the hybrid sources and have compiled a consolidated portfolio here. We aim to keep updating Rakesh Jhunjhunwala's latest buys and sells as and when they happen and also keep a tab on Rakesh Jhunjhunwala latest picks and tips. << Hide
| | |
| --- | --- |
| Positions by sector | Gain distribution by sector |
Rakesh Jhunjhunwala's Take On The Current PSU Bank's Frauds
Mar 06, 2018 | 12:19 PM IST
The entire month of February proved to be an overdrawn horror story for our entire country. In particular investors and the public sector banks were the ones who lost the most amount of sleep as a series of scams worth approximately $2.5 billion demolished the entire banking system. Due to the lack of stricter and more accountable regulatory processes in place fraudsters successfully stole massive amounts from different state-run banks. Rakesh Jhunjhunwala also known as the Big Bull of Dalal Street made the following statement at TiE conference, There is no need for more than three PSU banks in the country. Jhunjhunwala also predicted that the privatization of public banks is bound to happen sooner or later. Famous for his stock picks, Rakesh Jhunjhunwala who's an ace investor in the stock market also shared his insights as to how these frauds would affect both the FDI and FII within the Indian financial markets in the medium to long-term. All in all, the recent scams have given a new hope to people who were already in favour of privatization of public banks. Even those people who were not in the favour of privatization, are now seeking stricter actions from the Reserve Bank of India. In the year 1969 nationalization of banks started in India. This was done with the aim of establishing better control over the entire banking system and to improve transparency in loan disbursal as well as deposits. However, nationalized banks have struggled with challenges like weak deposit accumulation, slow loan growth, and NPAs in recent years. On the other hand, private sector banks have fared much better, with a few exceptions wherein some of the private banks sailed through troubled waters.
Two Stocks In Rakesh Jhunjhunwala's Holdings Lost Up To 40% In 2017
Dec 29, 2017 | 02:37 PM IST
Celebrity investor Rakesh Jhunjhunwala, well known for picking multi-bagger stocks. Had a wonderful year. However, as some of his stocks performed exceptionally well, some incurred huge losses. In 2017, there are two stocks which have caused massive losses. Pharma giant Lupin lost more than 40% since January 2017. Lupin, one of the crowning jewel of Rakesh Jhunjhunwala's portfolio, lost around 12.5% in the just last 3 months. The data from BSE shows that Rakesh Jhunjhunwala held 1.89% stake in Lupin by the end of September-17 quarter. Interestingly, the stock market wizard had increased his stake from his previously 1.76% just a quarter before. By the end of September-17 quarter, Jhunjhunwala held 85,48,105 shares of Lupin Ltd which amounts to a Rs.866.13 crore. As the company took a plunge in the value of shares, his stake now stands at Rs.762 crore according to todays's price. This means he incurred loss of close to Rs.100 crore just three months period. Similerly, another favourite stock of Jhunjhunwala - CRISIL caused heavy losses for the master investor. Jhunjhunwala held 5.6% stake in the company which translates into 40 lakh shares amounting to Rs.881.2 crore in January. At current prices of Rs.1,857.05, his stake in the Crisil amounts to Rs.742 crores, which means he had to bear a loss of more than Rs.140 crores in just a years time. The value of CRISIL shaves has lost more than 18% in the year so far. As at the end of September-17, Jhunjunwala still holds 40 lakh shares in the company translating to 5.58% stake.
Rakesh Jhunjhunwala Reacts To Being Called Indias Warren Buffett
Dec 20, 2017 | 05:10 PM IST
Often referred to as Indias Warren Buffett, investment maestro Rakesh Jhunjhunwala says that its not appropriate to compare him to the legendary billionaire investor. Often referred to as Indias Warren Buffett, investment maestro Rakesh Jhunjhunwala says that its not appropriate to compare him to the legendary billionaire investor. Its not a fitting comparison. In terms of wealth and success and maturity, hes far, far ahead, Rakesh Jhunjhunwala told Reuters in 2012. The ace investor also said that hes not anybodys clone. Im not a clone of anybody. Im Rakesh Jhunjhunwala, Ive lived the world on my own terms. I do what I enjoy. I enjoy what I do, Reuters had reported Rakesh Jhunjhunwala as saying. Speaking at an event organised by Motilal Oswal Securities in 2014, Rakesh Jhunjhunwala said that everybody need not hold on to stocks for a very long time just because Warren Buffett does it. Every stock in life doesnt have to be bought for 40 years. All of us cannot be Mr.Warren Buffett in life, let me tell you. Just because he thinks that every stock should be bought for life does not mean that we should also buy every stock for life, Rakesh Jhunjhunwala said adding, Value investing is also buying a stock, keeping it for 12-18 months and selling it at a handsome rate. Value investing is buying value where it may not (always) be lasting value. That value could be encashed over two or three years. More recently in October 2017, the big bull of Dalal Street shared what sets him apart from ordinary investors. One thing which keeps me apart is that I have got guts. I may have Rs.1,000 in my bank but if I think the deal is worth a crore I will do it. I have guts and setbacks dont put me off. I feel them for 10 minutes but then I am ready to fight back, Rakesh Jhunjhunwala told CNBC TV18. Interestingly, Rakesh Jhunjhunwala started investing in the markets when the Sensex was at a mere 150! The 30-share barometer closed at 33,462 on Friday. My father was also interested in stocks. When I was a young child, he and his friends would drink in the evening and discuss the stock market. I would listen to them and one day I asked him why do these prices fluctuate. He told me to check if there is a news item on Gwalior Rayon in the newspaper, and if there was Gwalior Rayons price would fluctuate the next day, Rakesh Jhunjhunwala told the channel, responding to how he started investing in the stock market. Notably, his portfolio value tops Rs.13,000 crore as of September-17, taking into consideration the listed companies where he holds at least 1% stake. In Titan Company Ltd alone, the ace investor holds more than 8.02% or 715,86,220 shares translating to Rs.5,952 crore as on date, assuming no change in holdings since September end.
Rakesh Jhunjhunwala Picks Up Stake In Nazara
Dec 20, 2017 | 05:04 PM IST
In his first bet on Indias digital space, Rakesh Jhunjhunwala picked up a stake of Rs.180 crore in gaming company Nazara Technologies. The company owns popular titles such as Chhota Bheem and Virat Cricket. The investment in Nazara helped the Mumbai-based company raise Rs.540 crore in the past three weeks. Nazaras upcoming public offering scheduled for the middle of next year will get a leg up due to Rakesh Jhunjhunwalas investment. Edelweiss Financial Services and ICICI Securities will be the bankers for the IPO and Nazara is expecting a valuation between Rs.3,000 to 3,500 crore. Commenting on the investment Jhunjhunwala said - I am always on the lookout for promising companies which are leaders in high-growth verticals. Nazara has a consistent track record of delivering profits, cash flows, along with efficient use of capital and high RoE. I see growth potential in the company. Nitish Mittersain founder of Nazara said - The investment (from Jhunjhunwala) is from a 5-10 year long-term perspective and it is great to have strong hands like Jhunjhunwala who have staying power and dont have the need to sell based on short-term issues,. Nazara logged gross customer billings of Rs.550 crore with profit after tax at Rs.66 crore in FY17 and it has been profitable since 2007. Over the past decade, Nazara has expanded to 74 countries as a publisher, diversifying its revenues across Africa and the Middle East as well. The companys plan for an IPO comes at a time when it is looking to expand its focus on casual mobile gaming to become a broader ecosystem player. In February, ET reported that Nazara Games was committed to investing Rs 136 crore in its eSports venture over the next five years. As per a FICCI-KPMG report, the Indian mobile gaming market is expected to expand from $200 million in 2016 to $3 billion in 2019. With telecom operators lowering voice and data rates amid intense competition, smartphone penetration in the country is expected to deepen and is expected to push up adoption of mobile games.
Rakesh Jhunjhunwala Picks Up 1% Stake In Jaiprakash Associates
Jul 26, 2017 | 06:03 PM IST
Celebrity investor Rakesh Jhunjhunwala has bought 2.5 crore shares, or 1% stake, in Jaiprakash Associates during the June quarter. The details were shown in Jaiprakash Associates' shareholding data. At this point, it is not known whether Rakesh Jhunjhunwala held any stake before this quarter. Individual shareholders' holding details only show up on exchanges if the total stake bought is above 1 percent. Jhunjhunwala's holding in the company is worth Rs 57.5 crore. On Thursday, shares of Jaiprakash Associates finished flat at Rs 23.05 on BSE. The company's stock had hit its 52-week high of Rs 24 on Wednesday. The stock has jumped 241% from its 52-week low of Rs 6.71 which happened in the month of November 2016. The stock is also one of the top performers in the Nifty 500 index this year.
Happy About GST's Arrival But Sad About Its Delay: Rakesh Jhunjhunwala
Jul 04, 2017 | 01:53 PM IST
On the overall rollout of Goods & Service Tax Jhunjhunwala is extremely happy. He believes the new policy will make the business operations (Both SMEs & Corporates) more efficient as GST encourages digitisation of all the transactions. He also feels that GST is a great equaliser and brings the much need tax stability and transparency. Jhunjhunwala says that earlier the tax in all the states used to be different and it used to become difficult to keep track of all the spendings and the tax paid on it. Under GST all the citizens, irrespective of which state or city they are in, will have to pay the same tax. Though he is happy that GST is finally implemented but he is not in the least happy with the slow functioning of the government machinery. As GST was being considered for over 10 years, Jhunjhunwala believes that its implementation is way too late and that it should have been in force a long time ago. Mr Jhunjhunwala feels that GST will lead to big logistical gains as the state taxes will now cease to exist, hence, all the companies who used to have warehouses in all the states to avoid taxes will now have a space for hassle-free operations. This will eventually lead to the profitability of the companies.
Rakesh Jhunjhunwala Reduces Stake In Tata Motors DVR
Apr 19, 2017 | 05:23 PM IST
Celebrity investor Rakesh Jhunjhunwala reduced his 50 lakh shares in the Tata group stock in the March quarter. As the news came, shares price of Tata Motors DVR fell close to 2 percent. The data available with BSE says Jhunjhunwala held share worth 1.24 crore of Tata Motors DVR, which amounts to 2.44% of the companys total shares as of March quarter. This stake included with the name of Rakesh Jhujhunwala (1.01%) and Rakesh Radheshyam Jhunjhunwala (1.43%). At the end of December quarter, Jhunjhunwala had 1.74 crore shares, or 3.43% stake in Tata Motors DVRs. Owing to this information, company's stock fell 1.83% to close at Rs 270.75 on BSE.
Intellect Design Arena Shares Drop As Rakesh Jhunjhunwala Sells Stake
Feb 17, 2017 | 07:06 PM IST
The shares of Intellect Design Arena bounded a day after celebrity investor Rakesh Jhunjhunwala along with his wife Rekha sold their entire 4.20% stakes in the IT company for an estimated amount Rs. 53.08 crore. Company's stock fell as much as 10.42% in yesterday's session. It hit the intraday low of Rs. 107.80. In the BSE filing, Mr.Jhunjhunwala said that on 14th February he with the persons acting in concert of Rekha Jhunjhunwala sold 42.50 lakh shares (Which represent 4.20% share in the company) of Intellect Design Arena. He further added that after this development his total shareholding in Intellect Design Arena stands as nil. Based on the average price of the stock which was Rs. 124.91 on February 14th, the value of the transaction is estimated at Rs. 53.08 crores. Intellect Design Arena is a Chennai-based Information Technology (IT) company which deals in financial technology products for insurance, banking and other financial services.
Hindustan Oil Stock Jumps As Rakesh Jhunjhunwala Ups His Stake
Jan 18, 2017 | 07:54 PM IST
As the news broke that billionaire investor Rakesh Jhunjhunwala has increased his stake in the company with 2.89mn shares according to NSE filing. Mr. Jhunjhunwalas has raised his stake to 3.78% with this purchase from 1.57% earlier. Hindustan Oil Exploration was trading at Rs.127.75, now it is up 1% compared to the previous close. It had touched Rs.130.50 which was a days high of and a days low of Rs.126.85. The total trading volume on the NSE stood at 5.8 lakh shares. Jhunjhunwala told CNBC-TV18 that there is nothing to complaint about HOEC because for next three-year the picture looks pretty good. The company has gone up from it and had a huge rise and the prospects are very bright. Another stock in Rakesh Jhunjhunwala's holdings - Punj is in trouble at this point. But Jhunjhunwala is confident about Punj in the long run.
Rakesh Jhunjhunwala Hikes His Stake In Lupin
Dec 31, 2016 | 07:03 PM IST
Ace investor Rakesh Jhunjhunwala has increased his stake in pharma giant Lupin to 2.02% from 1.84 p% during the latest quarter which ended in December 31, 2016. For decades Lupin has been a major part of Rakesh Jhunjhunwala's holdings. According to the recent shareholding data produced by Lupin, Rakesh Jhunjhunwala now holds 82.90 lakh shares in Lupin against 77.40 lakh in the quarter before. Shares of Lupin were trading almost flat at Rs. 1,490.55 in afternoon session on Tuesday. The stock opened at Rs. 1,487 and touched a high Rs. 1,501.80 and low of Rs. 1,484.40 in trade so far. Benchmark BSE Sensex was up by 125.48 points to 26,852 at 12.35 pm. In the previous quarter the had company reported net profit of Rs. 662.19 crores which was 58% higher than the Rs. 419.75 crores in the corresponding quarter last year. Revenue of the company has increased 32% on a Y-O-Y basis to Rs. 4211.18 crores during the quarter under review.